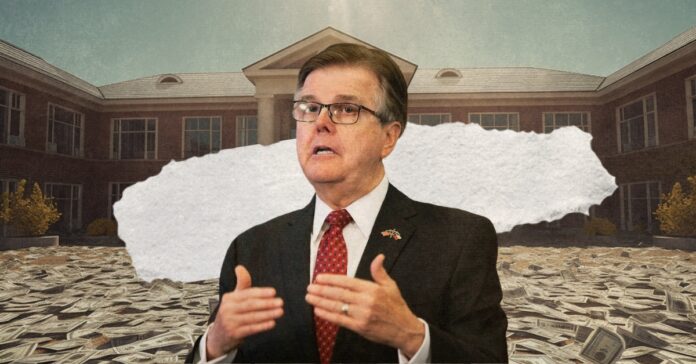 The Texas House and Senate are finally showing signs of progress in addressing property tax concerns. The inclusion of teacher pay increase in the Senate's property tax cut plan is Lt. Gov. Dan Patrick's new bargaining chip.

The Senate might have struck gold by tying two immensely popular legislative proposals together: more money for teachers and an increase to the homestead exemption, that would give homeowners a break on their yearly tax bill.

In a sign of a more committed approach, Speaker Dade Phelan announced that the House would reconvene on Friday and the following Wednesday. A strong contrast to the last special session, where the House gaveled in and gaveled out all on the same day.

Senators started the day introducing Senate Joint Resolution 1 and Senate Bill 1, which mirrored the compression-homestead exemption-franchise tax strategy from the previous session. However, Senator Roland Gutierrez proposed reviving Senate Bill 9, a $3.2 billion teacher pay increase from the regular session.

Under this plan, teachers in districts with over 20,000 students in the previous school year would receive a $2,000 raise, while those in smaller districts, primarily rural areas, would receive $6,000 each.

The Senate's tax plan also further limits how much new revenue school districts can raise through property taxes, prohibits school districts from repealing optional homestead exemptions they've granted, and exempts more businesses from the business-franchise or "margins" tax, as reported by The Dallas Morning News.
This additional funding makes the Senate's tax plan grow from the once-estimated $17.6 billion to $21.2 billion.
It should be noted that the inclusion of teacher pay extends beyond Gov. Abbott's special session focus on property tax compression and elimination. Nevertheless, Lt. Gov. Patrick gave the green light and the rest of the Senate advanced.

"I can't think of a better property tax bill that you could possibly pass, and you've done brilliant work," Patrick said. "You know the good news about the special session? The bill has only gotten better."

The House has remained relatively quiet about ongoing negotiations, however, Patrick said he texted Phelan to have a face-to-face discussion next Wednesday to get the property tax relief bill passed.

Unlike the last special session where Gov. Abbott sided with the House on the property tax relief bill, the Governor said he will sign any significant tax cut legislation that reaches his desk, as long as the House and the Senate come to an agreement.
"When the House & Senate come to an agreement & send a property tax cut bill to my desk, I will sign it," Abbott said Wednesday on Twitter.