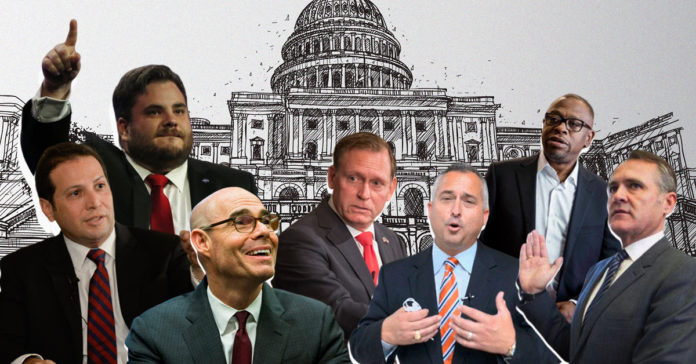 Everything is bigger in Texas, including its politics.

While the Lege was relatively quiet during session, our elected officials still managed to find ways to confirm outsiders' suspicions of how crazy Texas politics can be.

Luckily, Texans can rest easy for a while, knowing that they will not have to hear from their state House and Senate representatives until the next legislative session in 2021 (that is, until campaign season ramps up to full swing next year).

Here, in no particular order, is a list of the biggest political surprises in 2019.

"Bonnghazi"
Can't really argue with an audio tape.

This year saw the fall of Texas House Speaker, Dennis Bonnen (R- Angleton), when he met with GOP caucus chairman, Rep. Dustin Burrows (R- Lubbock) and hardline conservative activist and leader of Empower Texans, Michael Quinn Sullivan.

Sullivan, who wore a wire during the meeting, accused Bonnen of offering Empower Texans coveted House media credentials in exchange for help defeating 10 incumbent Republican house members.

Though Bonnen initially denied it, the eventually released audio evidence erased any doubt about what transpired. In late October, Bonnen announced he would not seek re-election.
The one where Texas legislators accidentally 'decriminalized' marijuana
Due to the minor amounts of THC in hemp, a new law legalizing hemp farming and derivative hemp products accidentally redefined the legal definition of marijuana. This mistake resulted in more costly prosecution of minor marijuana charges, prompting several district attorneys to drop small marijuana possession cases. Attorney General Ken Paxton and other top state Republican leaders urged state district and county attorneys to continue prosecuting. The long-term effects of the law's ramifications are not yet clear.
Don't drop that thunda thunda thun- Poncho Nevarez
Eagle Pass state representative Poncho Nevarez made national headlines after surveillance footage showed him dropping a sealed envelope containing two grams of cocaine at the Austin-Bergstrom airport. Rep. Nevarez turned himself in to the Texas authorities to face third degree felony drug possession charges that could result in a maximum sentence of 10 years in prison. He will not seek reelection in 2020.
Texodus
Prior to the filing deadline, Republican members of the Texas congressional delegation and state level dropped like flies. Speculation for various retirements suggest that some districts known as former GOP strongholds will create potentially tough races for Republican candidates facing a changing electorate. This leaves room for intraparty brawls and bizarre candidates to take the political stage as we enter campaign season in 2020.

That feeling when you reply all with the Texas GOP 2020 political strategy
In a bizarre twist that seems more fitting for an office drama, an email draft of the Texas Republican Party's 2020 electoral strategy was sent out to several House Democrats. The email revealed the Republican Party's plan to buy micro-websites created with the dedicated purpose of attacking incumbent Democrats. In the email, the Texas GOP expressed concerns about Donald Trump's "polarizing nature." Oops.

Geto Boys Councilmember? "Say hello to my little friend councilmember?"
Geto Boys group member Brad Jordan—or as he was better known, "Scarface"—appeared on the ballot for Houston City Council this year, entering the world of Houston's local politics and earning a recommendation from the Houston Chronicle. Jordan announced his candidacy soon after seated councilmember Dwight Boykins announced his mayoral bid. While the race was close in the general, in the runoff Carolyn Evans-Shabazz went face to face with Scarface and eventually won with over 24 percent of the vote.