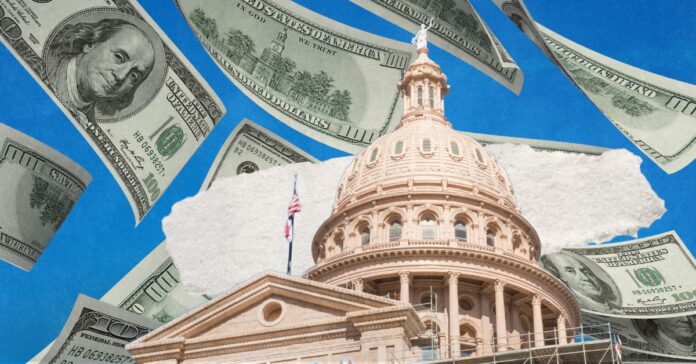 Lawmakers in Texas have recently reached a significant milestone by finalizing a historic budget plan for the upcoming two years, amounting to a staggering $321.3 billion. Nevertheless, the budget has become a subject of intense debate and controversy, primarily due to its failure to address crucial issues such as teacher pay raises and promised property tax cuts.
The budget, known as the General Appropriations Act for 2024-25, includes allocations for various sectors, such as tax cuts, mental health access, state employee pay raises, border security, state parks expansion, and infrastructure development for broadband and water.

Even though it was passed with overwhelming support in both chambers, the contentious policy fights between the House and Senate led to approximately $17 billion worth of commitments being excluded from the budget, as reported by The Texas Tribune.

Despite having a historic budget surplus, no Texas public school employee received a raise, nor were there significant increases in school funding. Instead, budget writers decided to hold public education funding hostage, setting aside $4 billion that could only be used if a divisive bill creating a private school voucher program was passed – Saturday night, that bill died, also killing teacher pay raises, and denying extra money for schools.

In addition, according to The Texas Tribune, the 1,028-page compromise plan offers no new money for employees who retired from state agencies. It provides no funding for the state's sweltering prisons. And it ties billions of dollars in university funding to passing bills that haven't passed yet.
Triggering criticism, the new spending plan leaves about $10 billion unspent, which Democrats said could have been used to do more for public schools and teachers.

"Money for a property tax cut doesn't put gasoline in the school bus," said state Rep. Trey Martinez Fischer, a San Antonio Democrat and member of the budget-writing committee who voted against the budget. "Money from a tax cut doesn't put new ovens in the cafeteria. It does nothing to fix the leaky roof in the gym or pay more for food service workers and bus drivers. I worry there is no safety net if these contingencies do not come to pass."
The budget will allocate $17.6 billion for property tax relief, with the aim of reducing tax rates for school districts –specific details of these tax cuts have yet to be agreed upon.