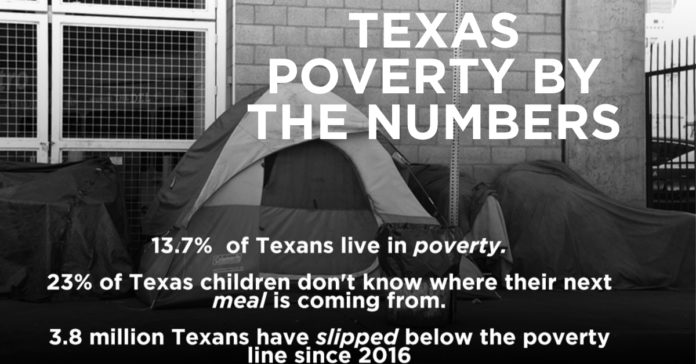 After 14 straight quarters of positive economic growth and an unemployment rate hovering around four percent, income inequality continues to grow in Texas thanks to a nationwide trend of stagnant wage growth.
Houston has the highest level of income inequality in Texas and ranks 11th nationally, according to a 2019 study from Apartment List.
Additionally, a recent study by the U.S. Census Bureau showed that from 2008 to 2017, the income gap in Houston grew 16.3 percent. Houston's top earners make about 12.6 times what the city's lowest earners do.
The lack of U.S. wage growth in 2018 means that one out of every seven Houstonians lives in poverty, even as the national poverty rate is declining. Conversely, Dallas has one of the lower rates of income inequality in the country, according to the same Apartment List study, though Dallas' top earners still pull in 10.1 times what the city's lowest earners do.
Although income disparity may not be as pronounced in Dallas as it is in Houston, the Big D isn't exactly a cheaper place to live.
Income inequality is a statewide problem
Over the last few years, a massive real estate bubble has helped Dallas shoot past Houston in homelessness rates. Dallas' government is attempting to alleviate the region's increasing cost of living with a wage hike.
Earlier this year, the Dallas County Commissioners voted 4-1 to raise the minimum wage for county employees to $15 an hour. Although the vote could be considered a victory in the fight for a living wage, in reality, it was mostly a symbolic gesture.
The majority of Dallas County employees already make more than $15 an hour, and the ones that don't, like janitors, are excluded from the wage increase. Dallas isn't the only city that is taking baby steps to address income inequality.
Apartment List found that San Antonio's top earners make 11.7 times more than the city's lowest wage earners. The survey did drop the top earners' rate from 12.5 times higher than the lowest earner.
One of the factors contributing to San Antonio's inequality appears to be the city's class segregation. The Pew Research Center ranks San Antonio first in terms of Residential Segregation by Income. In 2016, the city also topped the list on the Distressed Communities index — which is tied to factors like housing and high school graduation rates.
The intense segregation of high and low wealth zones in San Antonio amplifies the effects of poverty by limiting access to opportunities for upward mobility. Sadly, income inequality isn't a foreign concept in the state capital.
Austin is ground-zero for income inequality
The silicon hills of Austin also suffer from income segregation. The phenomenon is so pronounced that urbanist Richard Florida described Austin as one of the "epicenters of economic inequality."
Florida's criticism of Austin's income inequality is of particular interest given the outsize role he has played in the development of Austin.
Since the publication of Rise of the Creative Class in 2002, Florida's theories and observations about urban amenities and attracting a techno-literate workforce have served as guidelines for "weird cities" throughout the country.
Florida, director of the Martin Prosperity Institute at the University of Toronto, is such a well-known figure in urban planning that a 2010 book about Austin's cultural identity, appropriately titled Weird City, spent an entire chapter criticizing him for overlooking the negative consequences of the gentrification he championed.
Weird City wasn't the only publication that took potshots at Florida. Disproving parts of his research has become something of a cottage industry amongst urban theorists.
One of the more famous "Richard Florida debunkings" occurred when Harvard economist Edward Glaeser took Florida's data sets and found that the median education level of a city had a higher correlation with metropolitan economic development than the number of bohemians and gay people living in the city.
Florida's ideas about what constitutes a successful city in the 21st century helped convince urban planners to spend a decade investing in things like dog parks and craft breweries instead of bus stations and free clinics.
In Austin, where Florida's ideas have been treated as gospel, the poverty rate has risen to 11.2 percent, and 39 percent of rental units cost more than one-third of the median income for a family of four.
Although Austin's overall median income has increased, the rising cost of housing has left more people on the edge of the proverbial fiscal cliff. With fewer and fewer people able to save money, a large portion of Austin's workforce is one healthcare emergency away from homelessness.
Like Dallas, Austin has raised the minimum wage for municipal employees to $15 per hour. However, given the cost of living in Austin, $15 per hour barely provides a living wage.
Despite the apparent good news of a growing economy, most low earners in Texas cities have failed to see the evidence in their paychecks. The Lone Star State's expanding income inequality gap requires a large asterisk next to any glowing economic reports.