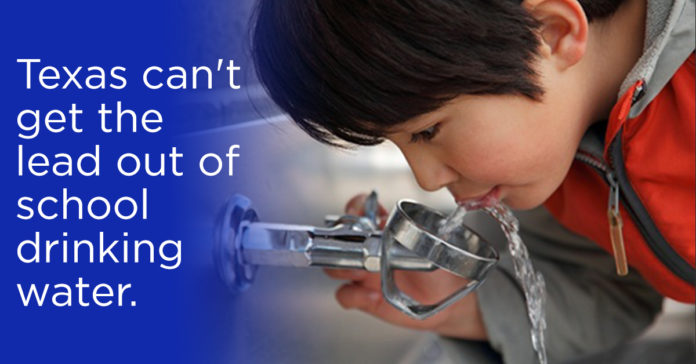 Some Texas schools have toxic drinking water. The Texas Public Interest Research Group and Environment Texas Research and Policy Center recently issued a joint analysis of water quality reports from 15 Texas school districts.

The non-profits examined publicly available data from school districts in the Austin, Dallas, and Houston areas and found that 120 of the 1,170 schools surveyed reported lead levels that exceed the EPA limit of 15 parts per billion (ppb) in drinking water.

The study also showed that 70 percent of those schools exceeded 1 ppb of lead, the maximum amount recommended by the American Academy of Pediatrics.

During the review, the groups found that some schools drastically exceeded EPA guidelines. Morningside Middle School in Fort Worth reported 1,820 ppb of lead in its drinking supply. Of the three metro areas studied, Dallas had more school districts report lead in the drinking water.

Luke Metzger, executive director of Environment Texas, explained that the percentage of school districts with lead in the water doesn't indicate a problem specific to Dallas.

"We only used self-reported data," Metzger said. "Dallas school districts reported more data than Houston or Austin."

Elevated lead levels were reported in numerous schools in the Houston and Dallas areas. Out of the largest school districts studied, Dallas ISD had the best numbers.

According to DISD's reports, 113 of the district's 234 schools had lead concentrations greater than 1 ppb and just six of its schools reported concentrations exceeding 15 ppb. In neighboring Fort Worth, 97 percent of the district's 127 schools had lead concentrations greater than 1 ppb.

FWISD also reported 48 schools with lead concentrations in excess of 15 ppb. Houston ISD had more 222 out of 254 schools with lead concentrations greater than 1 ppb and 35 schools where lead concentrations exceeded 15 ppb.

Currently, there are no federal or state laws that require school districts to take action to reduce lead in their drinking water. However, state Rep. James Talarico (D-Round Rock) introduced a bill last session to address the problem.

Talarico's bill, HB-2998, would have required drinking water in schools and childcare centers to reduce lead concentrations to 1 ppb. Unfortunately for Texas schoolchildren, the bill died in committee.