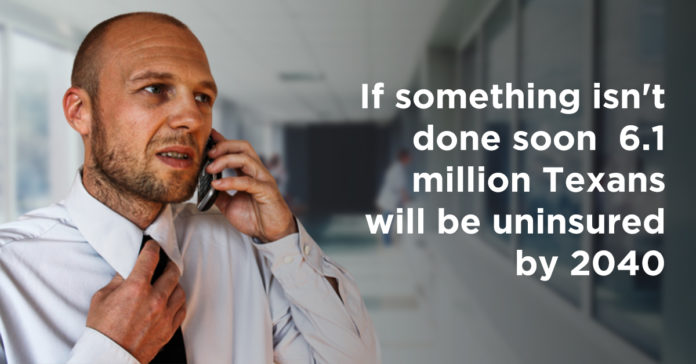 For years Gov. Greg Abbott has asserted that expanding Medicaid would leave Texas on the hook if the federal government stops paying its share. Texas elected officials' decision to opt-out of large portions of the Affordable Care Act has left the state with 5 million people without health insurance.
The lack of the Medicaid expansion has left hospitals and doctors responsible for emergency care rendered to the uninsured and hamstrung the subsidies that were supposed to help people cover the gap between Medicaid and exchange plans.
A 2016 Texas Medical Center-Nielsen survey showed that 87 percent of uninsured people would buy coverage if it were affordable. However, the lack of Medicaid expansion is helping to contribute to the "death spiral" that threatens insurance in Texas.
This death spiral is a ghoulish paradox in which the fewer people that have health insurance make health insurance more expensive. Inevitably the cost of coverage rises to the point where only high-income individuals, e.g. those most likely to receive it through an employer-provided plan, can afford insurance.
This compounding problem is one of the factors that led to Aetna and UnitedHealthcare abandoning Texas. Federal subsidies were designed to prevent insurance companies from pulling out of states and help people cover the gap between Medicaid and exchange plans.
The long-term effects of the lack of affordable healthcare coverage can manifest themselves in unforeseen ways. A January 2019 report from the Texas Alliance for Healthcare found that the cost of lower lifetime earnings and decreasing health for uninsured Texans added up to $57 billion by 2016.
The report predicted that, if left unaddressed, the combined sunken costs of poor healthcare will reach $178.5 billion in 2040. Those estimates are in addition to the $12.4 billion in uncompensated care costs.
As striking as the economic costs of the lack of Medicaid expansion can be, it took researchers from the University of Michigan to put the consequences of that policy decision in the starkest of terms.
A July 2019 working paper for the National Bureau of Economic Research found that 730 people die unnecessarily in Texas every year because of Medicaid hasn't been expanded.
If something isn't done soon, about as many people as make up Brenham will die from a lack of health insurance by 2040.