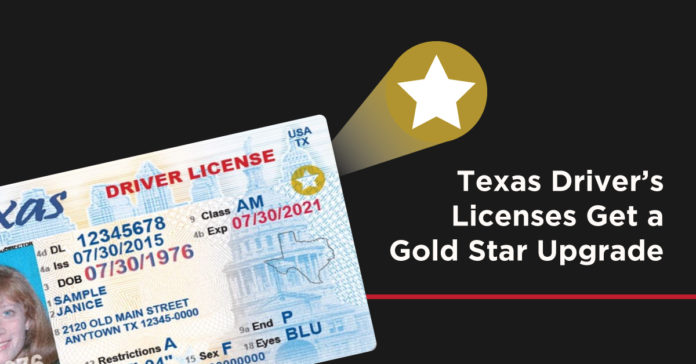 Stop what you're doing. Take out your driver's license.

Is there a gold star on the upper right-hand side?

If not, you may be in for some headaches next fall. Starting in October 2020, all Texas driver's license holders must have a gold star on their ID to pass through the Transportation Security Administration (TSA) line while flying within the United States.

This requirement follows the passage of the REAL ID Act by the United States Congress in 2005, and the Texas Department of Public Safety keeps Texas compliant with REAL ID laws.

The REAL ID Act establishes requirements for state-issued licenses and identity cards to be accepted for certain federal purposes, such as entering federal buildings or boarding domestic flights. The law will go into full effect in 2020; Texas DPS has been issuing these gold star approved licenses since October 2016. If you have yet to renew your license, you can keep using it until it expires or until October 1, 2020, depending on which date comes first.

For anyone who doesn't renew their license, additional documentation must be shown to enter federal courthouses or pass through airport security. This documentation includes passports, permanent resident cards, and other forms of accepted identification. If travelers cannot provide acceptable documentation, they will not be allowed to pass through TSA checkpoints; children under 18 won't be penalized if they are traveling with adults.

To update your license, Texans have several options: They can renew with DPS online, by phone, mail, or in-person at a local DPS office. There won't be an added fee for the gold star compliant IDs. 
Online renewal: https://www.dps.texas.gov/DriverLicense/dlfork.aspx?action=renew
Telephone renewal: 1-866-DL RENEW (1-866-357-3639)