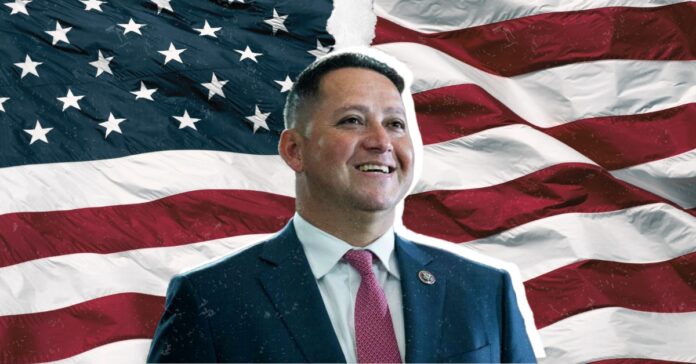 The Texas Republican party voted on Saturday to censure U.S. Rep. Tony Gonzales (R–TX 23rd District).
This rare move was brought on by the rep. breaking away from the party line in votes on key legislation such as same-sex marriage, gun control and border reform.
The State Republican Executive Committee passed the censure resolution 57-5, with one member abstaining. It needed a three-fifths majority to pass.
Gonzales went against the party when he opposed a sweeping House GOP immigration proposal over the U.S. – Mexico border, which encompasses a large portion of his South Texas district. He also was the only Republican to vote against House rules after Kevin McCarthy became speaker after 15 rounds of voting.
The censure also criticized him for being the only Republican to vote with the Democratic majority for the Respect for Marriage Act, twice. Which would grant same-sex marriages the same legal visibility as heterosexual marriages. As well as supporting the bipartisan gun legislation passed in the wake of several mass shootings.
Gonzales did not attend the meeting before the vote, however, and addressed the resolution in an unrelated press conference on Thursday. He defended his vote on the bipartisan gun safety law signed by President Biden, in wake of the Uvalde school shooting in his district.
"If the vote was today," Gonzales said, "I would vote twice on it if I could."
Gonzales was the only Republican from Texas who voted on the bill joining the 14 others statewide. He also remains the only Texas Republican in the statehouse or Congress who has called for the resignation of the state's police chief over the fumbled law enforcement response to the attack.
In practical terms, a censure allows the state party to come off the sidelines if Gonzales runs again in 2024 and to spend money to remind primary voters about the rebuke. Passage of a censure required a three-fifths majority, or 39 votes of the State Republican Executive Committee, according to committee Chair Matt Rinaldi.
According to the resolution, Gonzales is also "discouraged from participating in the 2024 Republican Primary."
However, the National Republican Congressional Committee (NRCC), reiterated its support for Gonzales on Saturday after the censure vote.
"Congressman Gonzales is a valued member of the House majority, and we look forward to supporting his re-election," NRCC Regional Press Secretary Delanie Bomar said in a statement.
Gonzales' campaign responded to the censure in a statement that snapped at the state party.
"Today, like every day, Congressman Tony Gonzales went to work on behalf of the people of TX-23. He talked to veterans, visited with Border Patrol agents, and met constituents in a county he flipped from blue to red. The Republican Party of Texas would be wise to follow his lead and do some actual work," campaign spokesperson Evan Albertson said in a statement to the Texas Tribune.