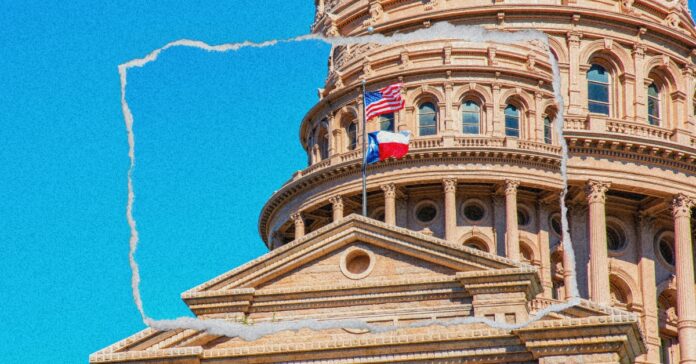 In the early hours of Thursday morning, the Texas House approved three bills aimed at bolstering border security. The measures were debated for hours and had a lot of back and forth, with one of them including seven proposed amendments that all failed.

While all three bills drew Democratic opposition, the most contentious debate revolved around House Bill 4, which would empower police officers to apprehend, arrest or send back migrants who cross the border illegally, as reported by The Texas Tribune.

Things got heated when Rep. Cody Harris made a motion to block new amendments, a move used to end debate sooner. Rep. Armando Lucio Walle, confronted Harris saying it was unfair for Republicans to cut off debate.

"It hurts us to our fucking core," Walle said, according to a video posted on social media. "And you don't understand that, you don't live in our skin. And that's what pisses me off."
The measure eventually passed 84-60.

HB 4, sponsored by state Rep. David Spiller, empowers police officers to apprehend, arrest, or return migrants who cross the border illegally. A first-time offender could face up to 180 days in jail, which could escalate to two years for repeat offenders. The bill has drawn criticism from Democrats who worry about potential wrongful arrests and legal jurisdiction.
The other two bills passed were House Bill 6 and Senate Bill 4:

– HB6: This bill, sponsored by state Rep. Jacey Jetton, allocates $1.5 billion to fund Gov. Greg Abbott's efforts to construct additional border barriers. The state aims to erect 50 miles of new barriers and maintain 40 miles of the existing ones. Acquiring private land remains a challenge.
– SB 4: This measure, sponsored by state Rep. Ryan Guillen, increases the minimum sentence for human smuggling from two years to 10 years. Critics argue that the definition of smuggling is too broad and could inadvertently target individuals providing rides to friends or family.
These bills are part of Texas' continued focus on border security, a top priority for Gov. Abbott. The state has already spent billions on border security, with strong support for these measures in the Texas Senate.