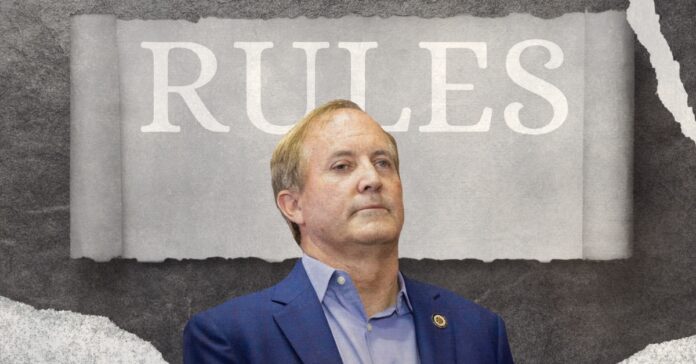 On Tuesday, the Texas Senate chose to conduct closed-door deliberations while debating the rules for the impending impeachment trial of Texas Attorney General Ken Paxton, according to The Dallas Morning News. This decision has raised concerns about the level of transparency promised leading up to the trial.

Impeachment is incredibly rare in Texas, Paxton is only the third public official in the state's history to be impeached. The exact mechanism of the upcoming trial in the Senate is still being determined.

The rules under consideration encompass crucial aspects such as the trial duration and the potential recusal of Paxton's wife, Sen. Angela Paxton. Senators were provided with draft copies of the rules early Tuesday, and members or their staff had to sign confidentiality agreements in order to accept them.

On Tuesday, following a brief session in which a property tax cut plan was passed, the Senate adjourned for a "caucus of the Senate as a whole" to ostensibly discuss and deliberate on the rules.
The closed-door meeting occurred just a day after Lt. Gov. Dan Patrick assured the public, during a radio show, that Senate proceedings related to the impeachment would be "totally transparent." He indicated that the impeachment rules would likely be made public during the week.

The draft rules for Paxton's trial were developed by a special committee that met privately. None of the committee's seven members have publicly disclosed the precedents or processes that influenced their rulemaking.

Granbury Republican Sen. Brian Birdwell, who heads the rules committee, declined to comment on Monday, citing his commitment to preserving the integrity of the process.

"While he understands the desire for information, he is committed to ensuring the integrity of the process," Birdwell's chief of staff J.W. Galloway said in an email to The Dallas Morning News.
The closed-door deliberations in the Texas Senate regarding the rules for Ken Paxton's impeachment trial have sparked controversy and raised questions about the level of transparency surrounding this significant event. The public awaits further updates as the trial approaches.

Following a decisive vote by the Texas House on May 27, Paxton, a three-term Republican, was suspended without pay. The House approved 20 articles of impeachment, accusing Paxton of accepting bribes and abusing his office's power.

The articles have a significant focus on Paxton's association with Austin real estate developer Nate Paul. Paul, who is also a political donor, is currently facing federal charges for eight counts of mortgage fraud.

*This is a developing story.