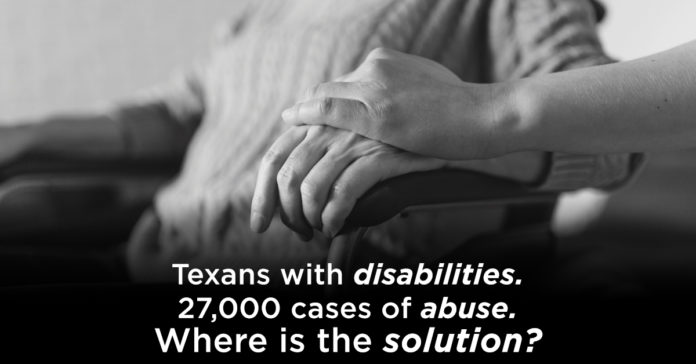 People with intellectual disabilities in Texas could have to remain under the supervision of a caretaker found to be abusive, negligent, or exploitative.

There is currently no system in place to temporarily suspend caretakers under investigation for abusive conduct, even if there's an initial detection of malpractice. Caretakers who choose to appeal guilty findings of wrongdoing can still care for the disabled until the appeals process is concluded—which can take years.

A WFAA investigation recounted the case of Paul Taylor, a 28 year old man with severe autism living with other individuals with intellectual disabilities in a state-funded adult foster care home called a "host home." Taylor was attacked by one of his roommates, who stabbed him with a screwdriver more than 85 times. Taylor survived, but is left with a number of scars.

Cases like Paul Taylor's are referred to the Adult Protective Services department of the Texas Department of Family Protective Services for further investigation.

In 2018, the Adult Protective Services department conducted nearly 27,000 investigations into reported abuse cases of individuals with a disability. Of these investigations, nearly 17,000 were cases in which the victims were validated.

In the state's investigation, the actions of Paul Taylor's caretaker were said to have put Taylor at risk of "internal injuries to vital organs, hearing loss and additional harm." Yet, because of the absence of a temporary suspension process, Taylor's caregiver was permitted to continue working with people with disabilities.

Two Texas lawmakers proposed legislation last session to provide a framework for the necessary suspension of caretakers involved in abuse cases. Rep. Jeff Leach (R-Plano) and Sen. Royce West (D-Dallas) filed bills to provide state regulators with the authority needed to proceed with suspension.

The bills would establish an "interim registry" to record caregivers found guilty of abuse, neglect, or exploitation of disabled persons, allowing state regulators to suspend, reassign, or bar caregivers from caring for people with disabilities.

Neither bill passed.
"The fact that there's no legal or statutory authorization for there to be a suspension just shocks my conscience," said Leach.