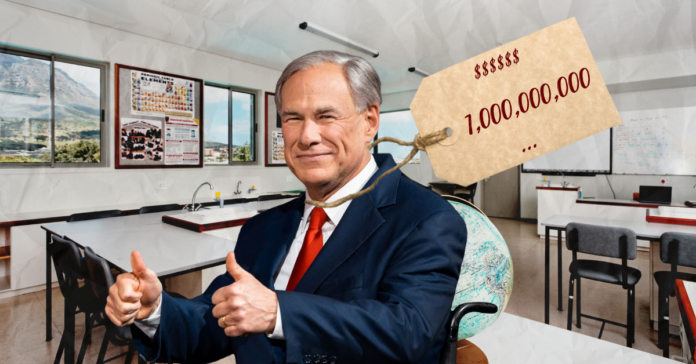 Despite assertions from Texas Republicans that Governor Greg Abbot's proposed school voucher program, called an Education Savings Account, would not harm Texas public schools, the Legislative Budget Board has said that the program will likely cost $1 billion within the first three years.
The Board estimates that all of the current 250,000 Texas students enrolled in private schools would receive the $8,000 per child grant, and that by 2025 that number would rise by 10 percent if the voucher bill passes. By 2026, the total price tag just for the vouchers would be $1.75 billion, with the number only expected to climb.
That's only the cost of the vouchers, which will be covered by the general fund. The Board also assumes that the increased cost of bureaucracy to monitor the program would run roughly $24 million annually.
The report acknowledges that schools will lose funding from the collected loss of expected students ($231 million for 25,000 students), though that will be covered by a $10,000 per student grant for districts with less than 20,000 students. The grant is being offered by Texas Republicans as a political strategy to get rural conservatives on their side. Traditionally, rural Republicans have opposed vouchers systems because of the loss of jobs they lead to in community schools. This grant is only good for two years, after which it will either have to be renewed or abandoned.
During the hearings on the bill Wednesday, the principal author Sen. Brandon Creighton (R-Conroe) claimed that bigger school districts would not need the grants because they had more resources to weather the loss from student enrollment. On average, every ten students that leave a district costs a job.
Currently, Texas has a record $30 billion budget surplus. However, half of it has already been spent on a property tax relief bill. As it stands, paying for the voucher system would likely require future surpluses, which are less likely as the state degrades the tax revenue. Fewer property taxes generally means less funding for public schools, which puts the rising cost of the voucher programs and expected loss of tax revenue as a double whammy on public schools within the next five years despite Republican promises of pay raises and support.
The voucher program is soundly rejected by most public school employees and teachers, who have staged multiple rallies at the state capitol to protest the establishment of the Education Savings Accounts. Decades of research show that voucher do not improve test outcomes, drain public school coffers, increase segregation, and mostly funnel tax money to religious institutions. At least one study showing negative academic outcomes was cited by State Sen. Royce West (D-Dallas) on Wednesday. Creighton responded that he had a file full of supporting data, but did not mention specific papers or institutions. Later, he received statistical support from a conservative think tank.
Not included in the Board's budget report is the possible impact the voucher system will have on disabled students. Many private schools are not required to take to disabled students, meaning that families that need additional support will be left out of whatever benefits the vouchers provide and have to make due with dwindling resources at the remaining public schools.