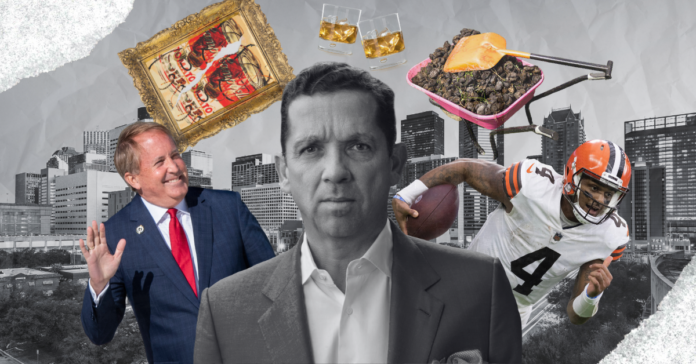 Tony Buzbee, the extraordinarily eccentric, prominent Houston defense attorney, who is no stranger to the spotlight, announced he has been retained to lead the defense team for Attorney General Ken Paxton in his impeachment trial. 

The addition of Buzbee to the defense, along with Houston star lawyers Dick DeGuerin and Rusty Hardin as lead prosecutors, sets the stage for a contentious trial. As a matter of fact, Buzbee already had some heated comments for his opposition: "I'm not letting those self-described legends off the hook."

In a text message exchange with Texas Monthly executive editor Mimi Swartz, Buzbee shames "little Rusty and Dick" for prosecuting Paxton with  "no sworn witnesses. No documentary evidence. Or even testimony, unsworn."

"It is very disturbing as a lawyer-that hearsay, upon hearsay, upon hearsay. (Does the process matter!!!??) leads to this," Buzbee continued. "And for two respected and revered lawyers of our bar, at the twilight of their careers, to endorse that?"

"They can do so much better," Buzbee concludes.
Buzbee has made a name for himself as a cut-throat defense attorney with high-profile clients, which include Gov. Rick Perry in 2014 for an abuse-of-power case that was eventually dismissed. He is also known for representing the victims who sued Houston Texans quarterback Deshaun Watson for alleged sexual misconduct and the victims of the Astroworld crowd crush who sued Travis Scott, the festival's founder, and rapper.

Buzbee gained fame in the 2000s for his successful representation of victims in cases against BP related to chemical disasters.
He is also well-known for losing to Mayor Sylvester Turner in his bid to become Houston's Mayor. In 2018, Buzbee announced he was running for Houston Mayor by calling all the candidates "mediocre" and promising to donate the mayor's annual salary of $236,000 to a random person of his choice each year.

Buzbee's campaign followed in the footsteps of Former President Donald Trump and was full of nasty (and incoherent) moments. Throughout his campaign he directly attacked Sylvester Turner, creating "deep fake" videos portraying his opponents in negative light.

He was also not afraid to "shit-talk" them, literally. During a press conference at his mayor campaign headquarters, he stood alongside a wheelbarrow of manure and said: "something stinks at City Hall and it's not this horse manure."
Turner fought back with ads attacking Buzbee's DWI arrest, accusing him of  "buying his way into power,"  and comparing him to Trump.

In the end, Buzbee lost and gave a passionately intoxicating speech. Texas Monthly reported he stormed the stage at his campaign's watch party to give an address that "will go down in the annals of something as a primo example of . . . something."

Houston's ABC-13 TV station described the speech as "uproarious and at times disjointed." The Texas Tribune wrote that he gave a "rambling speech brimming with confidence." The Houston Chronicle diplomatically described Buzbee as "taking a while to get to the point."

Just to give you an example of how much he was rambling nonsense, here is a snippet of Buzbees' eighteen-minute speech.

"I wanna take you back. I wanna take you back to 1980. How many of you were even alive in 1980?" he asked, sticking out his tongue. "Can I take you back to 1980? OK, alright, I'm going to take you back to 1980. In 1980, oh goodness gracious, oh goodness! Gracious! In 1980. You know what I was worried about in 1980? I was worried about a lot more, all I was worried about in 1980, and I gotta say it, and my mama is here, my mama is here. My mama's right there. Mama, in 1980, all I was worried about was could I avoid—you understand what I'm saying, right? In 1980. You don't remember? Oh I know you remember. Yeah you can't hear me. She can't hear me!" He laughs.
At the time, Buzbee told reporters that the idea that he was drunk was "just silly."

Anyway, circling back to his DWI, Buzbee is also known for his own legal blunders. In 2016, he was arrested on suspicion of driving while intoxicated and charged. His case was dismissed after then Harris County District Attorney Devon Anderson said it was "the right thing to do," although the decision raised eyebrows in the courtroom and beyond, as reported by The Houston Chronicle.

Lastly, Buzbee is also known for his past love-life mishaps. Not surprisingly for an eccentric millionaire, Buzbee is no stranger to the art world and in 2018 he had to take his art to court. He sued a Dallas woman he had been on a first date with after she allegedly destroyed $300,000 worth of artwork and sculptures at his home – under the influence of alcohol.

Buzbee is expected to represent Ken Paxton at his impeachment trial which is scheduled to begin no later than August 28, with rules to be established on June 20. 

Paxton faces 20 articles of impeachment, including allegations of bribery, abuse of power, and retaliatory firing of former aides. The charges also relate to Paxton's eight-year-old indictment on felony securities fraud charges. He has consistently denied any wrongdoing.

The defense has yet to say Paxton is innocent and has only focused on blaming the Texas House of Representatives for undermining the legal process when deciding to impeach him.