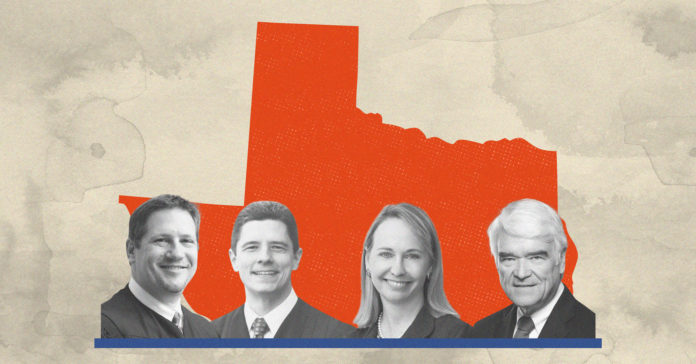 Republicans swept all four races for seats on the Texas Supreme Court in Tuesday's election. While a few votes remain to be counted, Chief Justice Nathan Hecht, and Justices Jane Bland, J. Brett Busby and Jeff Boyd all lead their Democratic opponents by approximately 9 to 11 points each, according to results from the Texas secretary of state. 
With those four victories, Republicans will maintain their hold on all nine seats on the state supreme court.
Hecht defeated Travis County District Court Judge Amy Clark Meachum; Bland defeated Houston attorney Kathy Cheng to take Place 6; Boyd defeated Staci Williams, a private practice attorney, for Place 7, and Busby defeated State Court of Appeals Justice Gisela Triana for Place 8.
Democrats had hoped to flip one or more seats on Texas' highest civil court for the first time in two decades, and state Democratic officials had described the races as a "top-tier priority." However, despite historically high statewide turnout, and strong performances in Texas's large metropolitan areas, Democrats failed to win any statewide race in Texas. 
In a possible sign of progress for Texas Democrats, though, the four Democratic candidates gained ground relative to previous races for the Texas Supreme Court. In 2016, Republicans won seats on the court by approximately 15 points in all three races that year — a considerably larger margin than Tuesday's narrower outcome. 
Democrats did achieve impressive results in some races for state appellate and district courts. In Harris County, the scene of numerous legal battles over voting procedures, Democrats won every single local judicial race on the ballot. Democratic judicial candidates performed similarly well in Bexar, Dallas and Travis counties — highlighting the notable shift toward Democrats in Texas' large metropolitan areas over the past few elections. 

"With every election, we're getting one step closer to that change," said Executive Director of Progress Texas Ed Espinoza, commenting on the broader outcomes for Democrats across Texas.