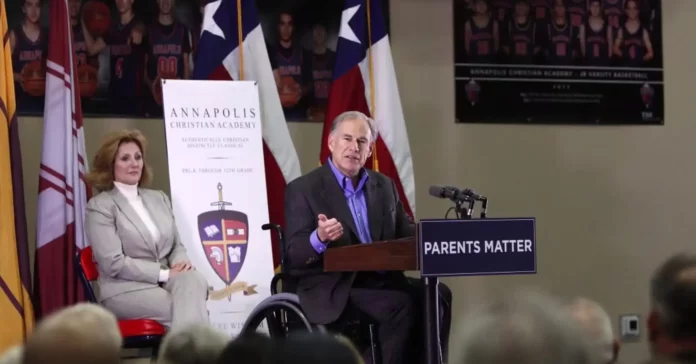 For the first time since making parental rights a priority early last year, Gov. Greg Abbott on Tuesday voiced his most explicit support yet for a "school choice" policy, saying that Texas needs to create an education savings account program.
"That will give all parents the ability to choose the best education option for their child," Abbott said during a Parent Empowerment Night event in Corpus Christi. "The bottom line is this: This is really about freedom."
Abbott's comment comes as the Texas Legislature prepares to take on public education issues; the top lawmakers have signaled that enacting a "school choice" program is at the top of the list. Abbott has voiced his support for expanding such a policy but never has been this clear on what sort of program he would support
"School choice" is a term used to describe programs that give parents state money to send their kids to schools outside of the state's public education system. The most common model is school vouchers, which are state-sponsored scholarships for private schools. This term has also become shorthand for opponents when talking about measures that would take taxpayer money from public schools.
Texas already practices school choice, as parents can choose to send their children to free charter schools or transfer schools within or outside of their district.
Texas has tried to pass school choice legislation in the past but has failed as rural lawmakers have stood in the way. In rural communities, both school officials and lawmakers fear that something like an education savings account would take money away from their schools as Texas funds schools based on attendance.
"No one knows what is better for a child's education than their parents," Abbott said. "Parents deserve the freedom to choose the education that is best for their child."
Sen. Mayes Middleton, R-Galveston, filed Senate Bill 176, which could become the most expansive piece of school choice legislation in the state if it were to pass. It would create an education savings account program that would allow parents to use state funds to pay for their children's private school, online schooling or private tutors.
Under Middleton's legislation, families that opt out of the state's public education system would receive the average amount of money it costs Texas public schools to educate a child, which is currently about $10,000 a year. The money would roll over on a year-to-year basis and could be used to help families pay for higher education, according to the bill. The funds for the program could come from both taxpayer money and donations.
Education savings accounts were pitched to lawmakers back in 2017, but the proposal didn't get much traction.
For some Republicans, this session is seen as an opportunity to get school choice legislation across the finish line as they believe they will have enough backing from parents displeased with public schools over pandemic response mandates and about how race and history are taught in the classroom.
Abbott says parental rights are a priority this session, but state law already ensures that parents have rights. The "Parental Rights and Responsibilities" section of the state education code gives parents a wide range of access and veto powers when it comes to their children. They can remove their child temporarily from a class or activity that conflicts with their religious beliefs. They have the right to review all instructional materials, and the law guarantees them access to their student's records and to a school principal or administrator. Also, school boards must establish a way to consider complaints from parents.
During the event, Abbott leaned on parental frustration as the reason that education savings accounts are needed. He said some parents were angry over masks being required, some over their kids having to learn virtually and some were upset over the kind of "sex content" being taught in schools.
"We must reform curriculum, get kids back to the basics of learning and we must empower parents to be more involved in the education of their children," Abbott said.
This story originally appeared on the Texas Tribune. To read this article in its original format, click here.