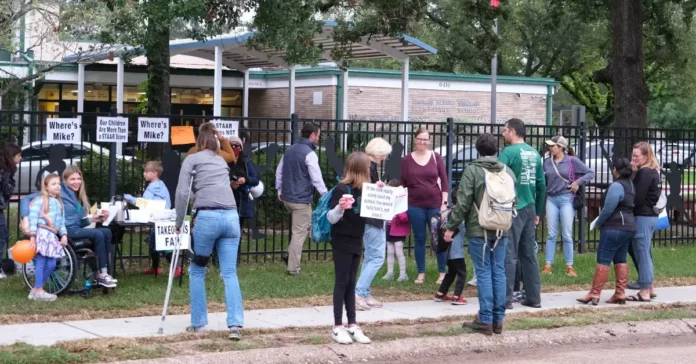 HOUSTON — The chants began two minutes before the first bell at Sinclair Elementary School.
"I don't know what I've been told. TEA is really cold," nine students and their parents, some holding donuts and coffee, chanted.
The crowd of about 20 gathered in front of the Houston Independent School District campus to rally against the Texas Education Agency's takeover of the state's largest school system. Parents questioned the state's intentions behind the takeover and expressed a variety of worries, from concerns about an overhaul of funding that would affect all the district's schools and programs to a lack of clarity from the state about what it is doing and why.
"The biggest question is really if the school district was struggling five, 10 years ago but has made significant improvements … why would you stir things up now?" George Frey, father of one Sinclair student, said. "Why are we doing this?"
About 15 minutes after the 7:30 a.m. bell, parents protesting walked their kids into the school for an important day — career day.
Across the neighborhood at Heights High School, a handful of parents handed out informational cards about the takeover and asked those dropping off students if they wanted to sign a petition.
The protest are among at least 30 demonstrations scheduled to occur across the city Thursday, the same day that applications were due to sit on the state's board of managers that will replace Houston ISD's current democratically-elected school board.
Parents planned to sit outside of elementary and middle school campuses while students were potentially staging walkouts.
"I am protesting the hostile takeover of Houston ISD to empower other parents to fight for their rights and for the rights of our children," parent Kourtney Revels said. "Education is a right, not a privilege, and taxpayers like me would like to see more equity, school funding tied to enrollment and inflation, and the end to using STAAR to shame our communities, instead of hijacking the largest ISD by the state for political reasons."
Education Commissioner Mike Morath said three weeks ago the state was moving to remove the trustees of HISD, with roughly 190,000 students and more than 250 campuses, following a yearslong legal dispute over the state's initial plans to take over due to persistent low performance at a single school and board dysfunction. The Texas Supreme Court in January lifted a temporary injunction that had staved off the appointment of a state governance board.
Phillis Wheatley High School, the school that triggered the takeover, has since performed better — even after the COVID-19 pandemic disrupted instruction — and the district overall performs better academically than many other large school systems in Texas. The board dysfunction was not cited in last month's takeover notification.
However a 2015 law mandates a takeover when a school district or one of its campuses receives failing grades from the Texas Education Agency for five consecutive years; Wheatley High reached that threshold in 2019.
The state also plans to replace Superintendent Millard House II, who started the job in July 2021 and helped navigate the district to a full return to in-person instruction and toward a semblance of stability after years of leadership tumult.
Local education advocacy group Community Voices for Public Education, parents and students organized Thursday's protests, the latest one in continuous opposition to the takeover from many in the city since the state announced its plans on March 15.
This story originally appeared on the Texas Tribune. To read this article in its original format, click here.