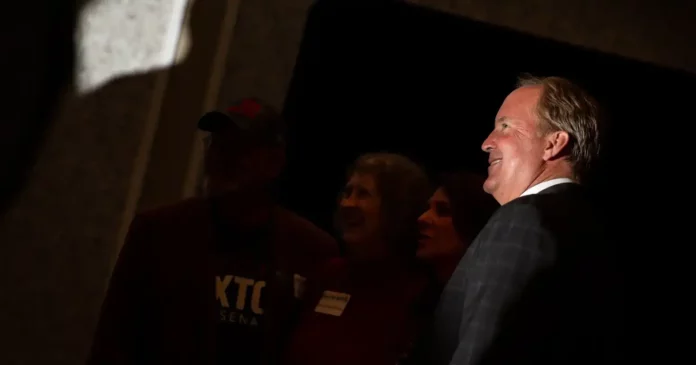 Justice Department officials in Washington, D.C., are taking over the corruption investigation into Texas Attorney General Ken Paxton after the U.S. attorney's office in San Antonio was recused from the probe.
Prosecutors with the U.S. attorney's office had led the investigation since October 2020 into allegations of whether Paxton had abused his office, state prosecutors said.
The Washington-based investigators will now look into allegations made by Paxton's former top deputies that the attorney general took bribes to benefit a political donor who also employed a woman with whom Paxton was alleged to have had an extramarital affair. The latest news was made public less than one week after Paxton agreed to apologize and pay $3.3 million in taxpayer money to settle a whistleblower lawsuit with four of the employees who accused him of crimes. The settlement still needs court and legislative approval.
State prosecutors Brian Wice and Kent Schaffer, who are handling a separate securities fraud case against Paxton, said in a statement that they were notified Thursday that the U.S. Attorney's Office for the Western District of Texas had been recused from the case by the Justice Department. The probe will now be handled by the DOJ's Public Integrity Section, which prosecutes allegations of misconduct against local, state and federal elected officials. Wice and Schaffer referred all other questions to the Justice Department.
The Associated Press, which first reported the news, said the move was pushed by Paxton's defense team. One of Paxton's attorneys, Dan Cogdell, told the Associated Press he'd wanted the case out of the hands of prosecutors from the Western District because they had "an obvious conflict" but that he had not been notified of the move. Cogdell did not immediately respond to a request for comment from The Texas Tribune.
The announcement is the first public indication since Paxton's decision to settle the whistleblower lawsuit that the investigation continues. It's unclear whether Paxton will face charges. He has denied wrongdoing.
In October 2020, eight former top deputies accused Paxton of bribery and abuse of office after they claimed he had done political favors for real estate developer Nate Paul, a friend and donor who contributed $25,000 to Paxton's 2018 campaign. All eight of those employees either were fired or resigned.
Among the issues Paxton involved himself in, the employees said, was the appointment — over the objections of attorney general staff — of a special counsel to look into whether FBI agents and federal prosecutors had improperly raided Paul's home in 2019. Those agents and lawyers would have been part of the Western District, which was recused from the case, the Associated Press reported.
Justice Department officials knew of the overlap within weeks of the reports to federal authorities but allowed the Texas-based prosecutors to continue working the case. The team was led by Assistant U.S. Attorney Joe Blackwell, a career federal prosecutor, who had previously won a money laundering and fraud case against former state Sen. Carlos Uresti, a Democrat from San Antonio.
The former top deputies also allege Paxton pushed the attorney general's office to get involved in a real estate deal involving one of Paul's companies and an Austin charity and that Paul had helped Paxton with the remodel of his multimillion-dollar home. Paul has denied wrongdoing.
On Wednesday night, Paxton took a hit toward resolving his whistleblower lawsuit when House Speaker Dade Phelan said he does not support using state funds to pay for the attorney general's settlement and did not expect the chamber's budget to include money for it.
"Mr. Paxton is going to have to come to the Texas House," Phelan, a Beaumont Republican, told CBS DFW. "He's going to have to appear before the appropriations committee and make a case to that committee as to why that is a proper use of taxpayer dollars, and then he's going to have to sell it to 76 members of the Texas House. That is his job, not mine."
This story originally appeared on the Texas Tribune. To read this article in its original format, click here.