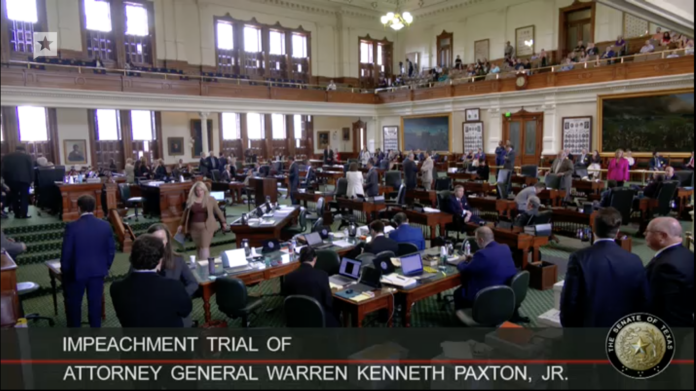 The historic impeachment trial of suspended Attorney General Ken Paxton is underway in the Texas Senate. He faces 16 articles of impeachment that accuse him of misusing the powers of the attorney general's office to help his friend and donor Nate Paul, an Austin real estate investor who was under federal investigation.
Paxton pleaded not guilty to all impeachment articles on the trial's first day. His defense attorneys have vowed to disprove the accusations and said they will present evidence showing they are based on assumptions, not facts.
Ken Paxton's ex-girlfriend expected to take the stand this afternoon
Sept. 13, 2023 at 9:53 a.m.
Laura Olson, the woman with whom suspended Attorney General Ken Paxton allegedly had an affair, is expected to take the witness stand Wednesday after 3 p.m. The prosecution attempted to call Olson as their first witness on Wednesday, but Lt. Gov. Dan Patrick said she was not eligible to testify yet because she had not been notified a full 24 hours in advance, as required by trial rules.
Paxton is married to Sen. Angela Paxton, R-McKinney, who must be present for the trial but is not allowed to vote.
Olson's relationship with Paxton has been a central focus of the House's impeachment case against the attorney general. House impeachment managers allege Paxton misused his office to help his friend and donor Nate Paul investigate his business rivals. In exchange, managers allege, Paul gave Olson a job in Austin so he could be closer to her, among other favors. On Monday, the former chief of staff for the attorney general's office also testified that she warned Paxton that the affair could open him up to blackmail.
The prosecution, however, is running out of time. At the beginning of the day, Patrick announced the prosecution has five hours and 17 minutes left, while the defense has almost 10 hours left. Both sides were given a total of 24 hours to present evidence and cross-examine.
In lieu of Olson, the prosecution's first witness was Ray Chester, the attorney for the Mitte Foundation. He testified about feeling pressure from the attorney general's office to settle the group's lawsuit with Paul on terms that were generous to the investor.
That litigation is poised to wrap up soon, with Mitte expected to receive about $23 million — "about $17 million more than we were offered" when the attorney general's office was involved, Chester testified.
— Rebekah Allen
Defense legal team has large time advantage over prosecutors
Sept. 13, 2023 at 9:20 a.m.
Lawyers for suspended Attorney General Ken Paxton have a distinct time advantage heading into the seventh day of the impeachment trial before the Texas Senate.
Paxton's legal team has nine hours and 57 minutes to present evidence and question witnesses, according to Lt. Gov. Dan Patrick, who is presiding over the trial.
Lawyers for the House impeachment managers have five hours and 17 minutes remaining, Patrick said.
Both sides began the trial last week with 24 hours each to present evidence, question and cross-examine witnesses.
— Chuck Lindell
Credit union CEO alleges Nate Paul benefited from "surprising" attorney general opinion prohibiting foreclosures during pandemic
Sept. 13, 2023 at 5:00 a.m.
House managers called their 11th witness in the impeachment trial: Kendall Garrison, chief executive officer of Amplify Credit Union. His testimony focused on three properties owned by Nate Paul that faced foreclosure because Paul had stopped repaying his loans. Garrison testified the outstanding loans totaled around $11.5 million.
Amplify had posted to sell the properties at auction on Aug. 4.
On Aug. 3, Paul sent Amplify employees an email with a link to an attorney general opinion prohibiting foreclosure during the pandemic, which Garrison said his office dubbed the "midnight" opinion. The opinion, which was published in record time, stated that foreclosure sales could not continue due to COVID-19 restrictions.
"It was surprising to see a ruling issued on a Sunday morning that essentially prohibited foreclosures in the state of Texas," Garrison said. The bank withdrew the foreclosure sales, but eventually sold them in September.
"Who benefitted from the foreclosure letter?" asked Erin Epley, a lawyer for the House.
"Nate Paul and the World Class Entities," Garrison said.
During cross examination, Paxton's lawyers pushed back against that claim and tried to cast doubt on Garrison's testimony by pointing out Amplify did not lose any money in the eventual foreclosure sales.
Houston attorney says Paxton misled and then stiffed him
Sept. 13, 2023 at 5:00 a.m.
Brandon Cammack, the Houston attorney that Ken Paxton hired to investigate Nate Paul's adversaries, testified that Paul's lawyer provided him with a list of people to subpoena and that, after he received two cease and desist letters, he was told by the Attorney General's Office that he'd have to "eat" a $14,000 invoice for his work.
Cammack said he became increasingly concerned that he was being misled about why he had been hired after he was visited by U.S. marshals, and felt like he'd "gotten the rug pulled out from me."
He was asked to drive at the last minute from Houston to Austin for a meeting at Paul's home. Paxton was there wearing running shorts, but spent most of the time talking on the phone outside. Cammack said he received little new information about what was expected of him, why U.S. marshals had contacted him or why he hadn't been paid yet.
Cammack also lamented Paxton's decision to involve him in the Paul matter, saying his name was dragged through the mud, that it hurt him professionally and that the only thing he received in return were two cease and desist letters.
"I had a whole entire life before all of this," he said.
– Robert Downen
Get the data and visuals that accompany this story →

This story originally appeared on the Texas Tribune. To read this article in its original format, click here.