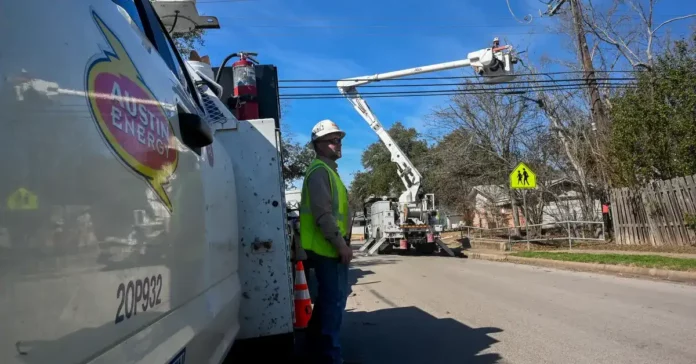 Nearly 95% of Austin now has electricity after last week's winter storm, but the city's utility says some of the fewer than 30,000 homes and businesses still without power Sunday night might have to wait another week for it to be restored.
Austin Energy said Sunday it has moved on to addressing the most complicated and time-consuming outages around the city and it expects that many customers will get their lights on before Feb. 12.
Ice from last week's winter storm broke tree branches, felled entire trees and pulled down power lines across Central Texas and a large swath of the state. On Wednesday, more than 400,000 Texas households and businesses were without electricity.
"I'm sorry for how long this is taking," Austin Energy general manager Jackie Sargent said at a Sunday afternoon press conference.
But even as progress has been made, more outages could be on the horizon this week with strong winds forecast for Tuesday. City Manager Spencer Cronk said more tree limbs could fall on power lines and advised residents to avoid parking under trees. Tuesday's winds could slow down ongoing repairs.
Austin-area schools will reopen campuses Monday after the freeze prompted closures last week. Austin Independent School District said all but one of its campuses have power restored. Student at that school will have class at another nearby school on Monday.
Gov. Greg Abbott issued a disaster declaration for seven counties on Saturday. Austin was the epicenter of the ice storm's damage. The local and state disaster declarations mean repairs in Austin will be reimbursed by Federal Emergency Management Agency. Cronk also said the city will "explore options" for reimbursing citizens financially.
More than 170,000 Austin Energy customers lacked power Wednesday. Leaders in the city, the tech capital of Texas, fumbled digital communications amid the crisis, drawing scorn and frustration from residents.
Getting the power back on has been hindered by the sheer number of incidents crews are trying to fix. Improper pruning and drought may have contributed to the massive amount of damage to Austin's urban tree canopy, which prompted many of the power outages.
The destruction and prolonged loss of electricity renewed a debate about whether Texas cities should prioritize extreme weather preparedness even though it can be extremely costly.
For many Texans, the ice storm stirred up memories of previous crises, like 2021's deadly winter storm that caused the state's power grid to nearly collapse and plunged millions into darkness amid subfreezing temperatures.
help each other remove fallen trees from roofs and yards. Residents who still lacked power this weekend spent their days searching for refuge in libraries, tossing out spoiled groceries and finding places to charge electronics.
This story originally appeared on the Texas Tribune. To read this article in its original format, click here.