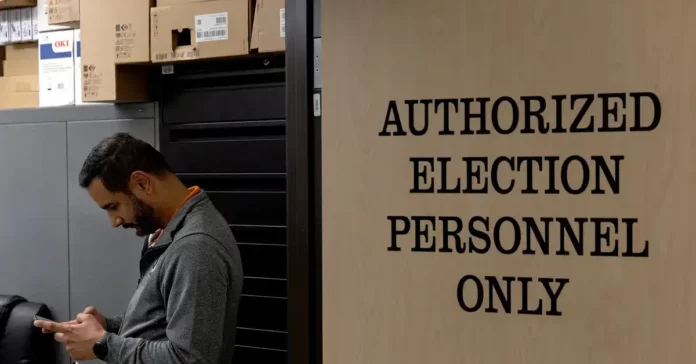 A North Texas elections official who was lauded by top state officials — and his critics — as one of the best administrators in the field has submitted his resignation.
Heider Garcia, who has been the elections director in Tarrant County since 2018, told county officials his last day will be June 23, after the county's May 6 general election, according to his letter of resignation obtained by Votebeat.
The resignation comes months after a newly elected county judge, the county's top executive, took office. Tim O'Hare ran on a campaign that prioritized election integrity and frugal spending of tax dollars. Soon after he took office he debuted a county election integrity task force, despite the lack of evidence of widespread voter fraud.
While campaigning more than a year ago, O'Hare went on various conservative radio shows to speak about his priorities. He said "mail ballot harvesting" and "Democrats cheating" contributed to former President Donald Trump losing the 2020 election in Tarrant County.
"When leadership respects the team's values and shows trust, members of the team become the best versions of themselves," Garcia wrote in the letter. "Judge O'Hare, my formula to administer a quality transparent election stands on respect and zero politics; compromising on these values is not an option for me. You made it clear in your last meeting that our formula is different, thus, my decision is to leave."
Garcia declined to comment.
O'Hare could not immediately be reached for comment.
"It's a shock," said Chris Davis, elections administrator in Williamson County, who has known Garcia since he was appointed to his role to run elections in Tarrant in 2018. "I wish Tarrant County luck in finding somebody as professional, forward thinking, and as focused on transparency and accuracy."
"This is a big loss for voters in Tarrant County because he was doing everything right," Davis said.
Tension grew publicly between Garcia and O'Hare during the past few months.
Last week, O'Hare said during a public meeting that he planned on calling a meeting to review Garcia's performance after the May 6 municipal election.
"I want to say all things are on the table," O'Hare said, according to the Fort Worth Star-Telegram. "I know there are a lot of people that want to get rid of the machines. I'm not telling you I'm a fan of the machines, want to keep the machines. I'm telling you you can cheat in paper ballots. You can in machines. You can cheat in all sorts of things."
During a commissioner's court meeting in February, O'Hare and other Republican commissioners questioned Garcia for about 20 minutes about the purchase of a $150,000 laser paper cutter for a mail-ballot sorting machine.
The county had included that purchase in the budget approved for this year, Garcia told the commissioners. O'Hare said the piece of equipment was too expensive.
"I think it's a total waste," O'Hare said before voting against the purchase.
Garcia, like many other elections officials across the country, has faced harrasment and racist death threats that stem from lies about the outcome of the 2020 election. Many administrators in Texas and across the country have resigned. Garcia, however, stood out and became known for taking a different approach to deal with some of the boisterous voter fraud activists: Instead of dismissing them or shutting them down, Garcia engaged with them and earned their trust. This tactic was praised by local and state election officials and others across the country.
Garcia was able to take such an approach and run a successful elections department in Texas' third-largest county — and the state's last major urban area led by Republicans — because he had the support of his bosses: the Tarrant County commissioners. Election administrators rely heavily on those elected officials, who control the budget. Former Tarrant County Judge Glen Whitley, a Republican, praised Garcia's work, said he had "greatest confidence" in him and denied any malfeasance in the county's elections. Whitley did not seek reelection.
Leading into the November general election last fall, former Secretary of State John Scott said Garcia was the "prototype" of an elections administrator. Garcia's critics, too, have given him credit, with one election-fraud activist saying he makes other election officials in the state "look like idiots."
"He'll answer all of your questions," said Aubree Campbell, a voter-fraud activist in the county who runs a group dubbed Taking Back Texas.
This story originally appeared on the Texas Tribune. To read this article in its original format, click here.