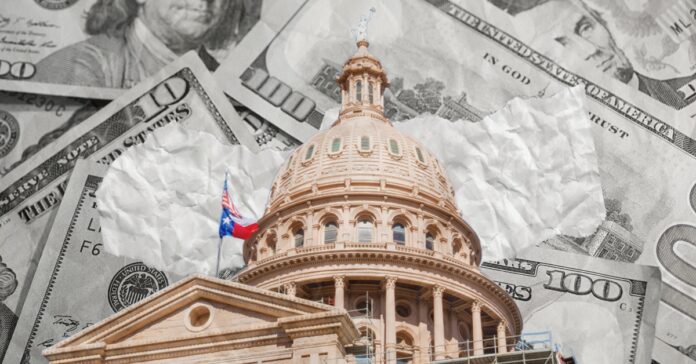 On Thursday, Texas' House Appropriations Committee approved a two-year $302.6 billion spending plan that includes pay raises for teachers and a nearly $14 billion "supplemental" spending bill that could potentially give $5,000 for retired teachers over 70.

Both bills got identical votes, 23-3. Voting against where Democratic Reps. John Bryant of Dallas, Jarvis Johnson of Houston, and Trey Martinez Fischer of San Antonio.

According to The Texas Tribune, the committee's budget proposal suggests allocating $5 billion more towards public schools, increased funding for higher education, $3 billion for enhancing mental health services, and an additional $3.5 billion to cover cost-of-living adjustments for retired teachers.

Despite the increase, Martinez Fischer, who heads the House Democratic Caucus, complained the chamber's budget package wasn't doing enough for public schools.

He grilled committee chair Greg Bonnen, R-Friendswood, on what the additional dollars could mean for the future of Texas education, stating that only $5 billion for public education wasn't enough.
"I don't want to go home saying I spent $5 billion on pub ed," Martinez Fischer said.
Bonnen responded, "Very good. Is there a question?"
Martinez Fischer said, "I'd like to find more money for public ed."
"So that's a statement," replied Bonnen, who said the Democrat should ask questions.
"OK, can I find more money for pub ed?" Martinez Fischer persisted. "Pretty please, may I find more money for pub ed?"

While Martinez Fischer wanted to see something more concrete on how the money would be spent, Bonnen said that wasn't possible before the legislation was passed. However, Martinez Fischer reiterated that more money should have been put into education and that changing the amount of funding for schools would be more difficult after the budget bill hits the House floor.

"I'm not convinced that these numbers do anything to confront the inflationary costs in our schools. I want to see something [more] that's just not set in concrete, and if there are opportunities to make different investments, that we have that," said Martinez Fischer. "When I take this vote, I want to be able to tell my constituents that I'm still working for money for pub ed."

Bonnen repeated that House budget writers "are doing an excellent job and we'll continue to support public education."

The marquee item in the House budget bill is a $17 billion buy-down of school property taxes. In addition, House panel members also proposed spending $3.5 billion to the Teacher Retirement of Texas (TRS) for the cost of living increases, ranging from 2% to 6%, and also a one-time payment of $5,000 for retired teachers who are 70 years or older. Both proposals are contingent on the passage of legislation authorizing the enhancement.

According to the Dallas Morning News, approximately 108,000 Texans who retired from their school district jobs prior to January 2004 would receive a 6% increase, equating to an average of $117 per month, under both the supplemental bill and Bonnen's independent legislation for retired teachers, known as HB 600 and House Joint Resolution 2.

"We've done a great job and I'm really pleased with the work product," Bonnen said.