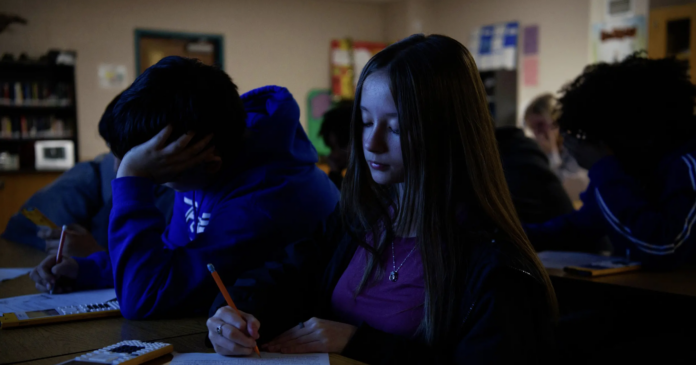 LUFKIN — Michael Lee knows what it's like to make tough budget decisions.
As the former superintendent of Booker Independent School District, Lee experienced the highs and lows of the oil and gas industry. During oil booms, the rural town at the northern tip of the Texas Panhandle swelled as job opportunities expanded. During busts, families packed up and left town — and took public school dollars with them.
Now, Lee worries about proposed legislation that would allow parents to use state tax dollars to send their children to schools outside of the state's public education system.
Any students left behind, he said, would suffer with so much less.
"When you lose enrollment, you have less money and have to make adjustments," said Lee, who now serves as the executive director of the Texas Association of Rural Schools, a group that advocates for the needs of small districts. "The only way you can do that is through personnel cuts."
Proponents of the proposed policy, often known as education savings accounts or vouchers, say that parents should have the right to choose what type of education their child receives and that students from low-income families shouldn't be forced to remain in public schools — especially if those schools aren't helping students meet state standards.
Historically, the legislation has passed easily through the more conservative Texas Senate but has stalled in the House, where Democrats and rural Republicans have voted against it. One rural lawmaker, state Rep. Ken King, a Republican whose district includes parts of the Texas Panhandle, vowed last year at a Texas Tribune event to fight any bill that introduced vouchers when the Legislature reconvenes in January. And rural education advocates like Lee argue that the shift would weaken public schools — often an anchor and major employer in rural communities — because they can divert dollars from public schools to private schools, which are not regulated by the state.
But the issue has gained new momentum. During his inauguration address in mid-January, Lt. Gov. Dan Patrick declared that he and Gov. Greg Abbott are "all in on school choice." Abbott has long supported the concept but has not consistently prioritized it. He has previously backed Republicans opposed by school-choice proponents, but during his reelection campaign doubled down on school vouchers.
Already, several school choice bills have been filed by Texas lawmakers, and more are expected to be filed before the March 10 deadline. "School choice" is an umbrella term commonly used in education circles that includes a variety of policies that give parents the option of enrolling children in schools other than their assigned district public school, often using public funding.
"This is probably the most vibrant discussion around school choice that I've ever seen," said Jay Ferguson, who has been on the board of the Texas Private Schools Association since 2008 and also serves as head of school at Grace Community School, a private school in Tyler. "The thing I'm excited about is the possibility of giving more access to a larger group of kids."
Nationwide, 32 states and Washington, D.C., have some type of program that helps families send their students to private schools, according to EdChoice, a nonprofit organization that advocates for these policies. The most common program is a tax credit scholarship, by which taxpayers receive full or partial tax credits when they donate to nonprofits that offer private school scholarships. In Texas, state Rep. Matt Shaheen, a Republican from Plano, has filed a bill that would create such a program.
Some states use school vouchers and education savings accounts, which send dollars directly to parents to cover private school tuition, online learning, private tutoring or higher education costs. Iowa's Republican governor signed into law an education savings account plan this month, and a Texas lawmaker has advanced a similar bill.
Under the Texas bill, filed by state Sen. Mayes Middleton, R-Galveston, families who opt out of public school would receive the average amount of money it costs Texas to educate a child, which sits at about $10,000 a year. Funding for the policy would come from both taxpayers and donations.
The Texas Private School Association has also drafted a bill expected to be filed by state Sen. Paul Bettencourt, R-Houston. That bill will prioritize students who are on a subsidized lunch plan, according to the association's president, Laura Colangelo.
First: Then-state Rep. Mayes Middleton, flanked by fellow members of the House Freedom Caucus, speaks with reporters at the Capitol on July 13, 2021. Last: State Sen. Paul Bettencourt, R-Houston, on the Senate floor on April 9, 2019. Credit: Jordan Vonderhaar for The Texas Tribune and Juan Figueroa/The Texas Tribune
Opponents of these bills say that Texas already offers options to families that don't cost them money. Parents can opt out of traditional public schools and send their child to a charter school, a publicly funded but independently run option. Parents can also send their child to a magnet school, a public school with a specialized curriculum that draws students from across districts. Many school districts also have a process for students to transfer out of their zoned school into a different district.
In order to win over House Republicans from rural districts, Patrick has said he would "bracket out rural districts" from any school choice bill that goes to the House. He later backtracked on the statement, though, and clarified that parents in rural districts would still be able to take advantage of school choice.
Rural superintendents are concerned that even if only a handful of students leave a district for private schools, the loss of dollars could be devastating.
"In a rural setting like where I'm located, every student counts," said Michelle Barrow, superintendent of Newton Independent School District.
Her district encompasses about 400 square miles along the Louisiana border and serves fewer than 1,000 students. In order to adopt a balanced budget each year, employees in Newton ISD take on multiple jobs, Barrow said. Some principals also drive bus routes. Teachers routinely coach sports teams.
Although there are no private schools within Newton, Barrow said some students may opt for a homeschool option if any of the proposed legislation becomes law. If that happens, her funding will decrease but her costs will likely stay the same — a sentiment many rural school leaders expressed.
The loss of a few students does not mean a school can just operate with fewer teachers, said Lynn Torres, superintendent of Lufkin Independent School District.
"Losing five students does not let me save money," Torres said. "It doesn't mean I can downsize."
If an education savings account bill is passed, demand for alternative education options may rise in rural areas that are currently not served by private schools. Some private schools are already considering expanding by opening satellite campuses, or microschools.
Ferguson said Grace Community School is considering expanding beyond Smith County into rural parts of East Texas. The school would partner with local churches to use their facilities while opening the school under the Grace Community School brand.
"It's hard to start a school from scratch," Ferguson said. "If the have the background and knowledge and partnerships, it's much easier."
The Texas Catholic Conference of Bishops is also looking to expand the number of Catholic schools in Texas by creating some hybrid schools that offer a mix of in-person and online instruction as well as vocational schools.
There are currently 236 Catholic private schools in Texas, and the conference plans to expand regardless of whether any of these bills are passed, according to Jennifer Allmon, executive director of the Texas Catholic Conference of Bishops.
Disclosure: EdChoice and Texas Private Schools Association have been financial supporters of The Texas Tribune, a nonprofit, nonpartisan news organization that is funded in part by donations from members, foundations and corporate sponsors. Financial supporters play no role in the Tribune's journalism. Find a complete list of them here.

This story originally appeared on the Texas Tribune. To read this article in its original format, click here.