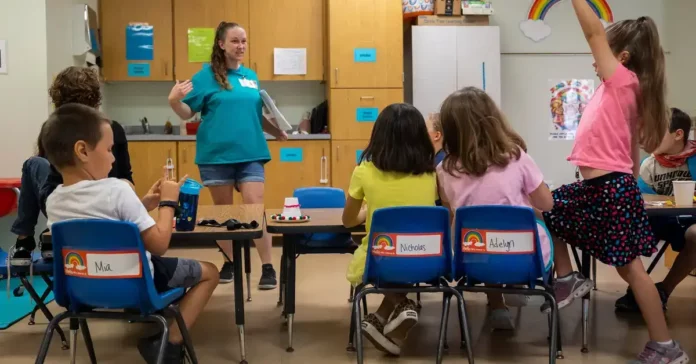 A bill that would create a program to let parents use state funds to pay for private schools — a longtime conservative goal, a top cause of Gov. Greg Abbott in this legislative session and a big concern for public education advocates — was approved in the Texas Senate on Thursday, moving one step closer to a House vote.
The bill now moves on to the House for a committee hearing, where it is expected to face stiff opposition. The Senate vote came the same day the House approved a budget amendment opposing school vouchers — the first indication of the tough road ahead for the proposal.
Senate Bill 8, by Sen. Brandon Creighton, R-Conroe, passed with an 18-13 vote along party lines. Sen. Robert Nichols, R-Jacksonville, was the only Republican to vote against it.
"We have the obligation to give Texas students more choices," Creighton said on his bill. "It empowers parents to make decisions for better outcomes."
The Senate also voted unanimously for an accompanying piece of legislation, Senate Bill 9, which would give a one-time bonus to teachers of $2,000 and a $6,000 one-time bonus to those in districts with less than 20,000 students. It also establishes funding for schools to establish residency programs to better prepare teachers. The bill got preliminary approval with a 22-9 vote.
The bill was not popular among teacher groups, which said educators deserved an across-the-board pay raise, or at least a higher one-time bonus to make up for inflation.
SB 8, also a priority of Lt. Gov. Dan Patrick, would establish an education savings account program, which would give parents who opt out of the public school system up to $8,000 in taxpayer money per student each year. These funds could be used to pay for a child's private schooling and other educational expenses, such as textbooks or tutoring.
SB 8 would also severely restrict classroom lessons, campus activities and educator guidance about sexual orientation and gender identity in public and charter schools up to 12th grade — with very limited exceptions. Creighton has previously told The Texas Tribune that the bill packages education saving accounts and these restrictions together because parents he talked to view these issues as "inextricably linked."
On the floor, Creighton faced questions about how the program would protect taxpayer funds from fraud, whether the state could hold private schools accountable over student test scores, and how the program could be considered a choice for every parent if private schools aren't required to accept every child.
Sen. Borris Miles, D-Houston, said there weren't enough measures in place to make sure funds weren't misused and to hold private schools accountable over test scores.
In response, Creighton said the comptroller will audit accounts and, if fraud is found, a district attorney will take the case. The bill also says that the state comptroller would have jurisdiction over the accounts, and a third-party vendor would distribute the funds directly to education services providers that have been approved by the Texas Education Agency.
Creighton heard dozens of amendments that would have added accountability measures to his bill, such as requiring a standardized test, a graded accountability system like public schools, requiring private schools to accept all students like public schools, and requiring private schools to follow the same safety protocols as public schools. All of them failed.
Creighton repeatedly emphasized that private schools will act independently and that parents will be the best accountability tool for the program. Private schools will not be subject to state tests, he said.
An amendment that did get approval extended eligibility for the program. Before Thursday, children already in private schools were not eligible for an education savings account, but now 10% of the program's enrollment — which would be about 62,000 students under the proposed funding — can be made up of current private school students if they meet a certain income threshold.
The bill's approval at the Texas Senate on Wednesday came as no surprise; Patrick, that chamber's leader, has long been a supporter of voucher-like programs.
But the big question this session has been whether such a program would have enough votes in the House, where Democrats and rural Republicans have often banded together against any measure that would send public dollars to private schools.
House budget vote is bad omen for voucher programs
The House voted 86-52 for the amendment against school vouchers after an unsuccessful effort by Republican leadership to table it. The vote demonstrated that any voucher proposal still faces an uphill battle in the lower chamber, even if support has grown in the past two years.
The amendment, brought by Rep. Abel Herrero, D-Robstown, prohibits the use of state funds for "school vouchers or other similar programs." The amendment specifically named education savings accounts.
Abbott has traveled the state for over two months pitching school choice, pouring tremendous political capital into the push. His office did not immediately have a comment on the vote, and he declined to take questions from reporters at an unrelated news conference in Austin that took place shortly after the amendment vote.
With the issue looming large, House leadership sought to short-circuit the amendment when it came up Thursday afternoon. Rep. Brad Buckley, chair of the House Public Education Committee, made the case to table the amendment, saying the chamber was putting the "cart before the horse" given that his panel is set to hear school choice bills Tuesday. But the chamber rejected his motion to table, 64-71, and proceeded to an up-or-down vote on the amendment.
Buckley persisted in trying to stop the amendment. He said he was "absolutely certain" his committee would have a "thoughtful discussion" next week about the school choice bills and then decide whether to advance any to the floor.
"I do believe that we should respect the process and make sure that we have the discussions in the proper order so that we can have good policy that leaves this body," Buckley said.
Ultimately, 24 Republicans joined Democrats to pass the amendment. Several members, including Buckley, decided to effectively stay neutral, registering as "present, not voting." Two other members of the Public Education Committee — Reps. Harold Dutton, D-Houston, and Cody Harris, R-Palestine — also voted that way.
During debate over the amendment, Harris seemed to side with Buckley in viewing the measure as premature. Harris asked Buckley if he thought the "budget is not the appropriate place to have this debate," and Buckley said he agreed.
Buckley voted in favor of a similar budget amendment opposing school vouchers during the 2021 legislative session. The amendment passed 115-29 back then.
This time, there were 29 fewer votes for the amendment and 23 more against it. Twelve House Republicans who voted for the amendment in 2021 opposed it now.
While that represents a favorable shift toward the pro-voucher position, it shows that the chamber is still well short of the 76 votes needed to pass any such legislation if it makes it to the floor.
Seeking middle ground with opponents
Advocates for education savings accounts have framed them as a tool to give parents more choices when deciding how and where to educate their children. But similar programs have faced staunch opposition from Democrats and rural Republicans because they fear they could take away money from their local school districts. Since Texas funds school districts based on attendance, any student that leaves a school district would result in less money.
To appease rural lawmakers, SB 8 includes a provision for districts with fewer than 20,000 students to receive $10,000 for every child who enrolls in the savings account program and leaves their district. An amendment to the bill that was passed Thursday extended the length of time that districts would get that money from two years to five years. It is not yet clear if the added funding for these districts will be enough to get the legislation through the House, which traditionally has been more skeptical of voucher-like programs.
Rural school leaders say they remain opposed to any voucher-like program, regardless of how long they remain fully funded. They worry that after the provision expires, they will be expected to provide the same services with fewer dollars.
"Five years still has an end date on it, doesn't it?" said Michael Lee, the executive director of the Texas Association of Rural Schools, a group that advocates for the needs of small districts. "So you extended it three years, you still have the same issue."
Lee said he'd rather the Legislature prioritize funding for school safety initiatives rather than a school choice program.
The total cost of the bill would be over $500 million for the next two years. Creighton has said the program would not affect public schools' finances because it would be paid for with money from the state's general revenue fund rather than the Foundation School Program, which is the primary source of state funding for Texas school districts.
J.A. Gonzalez, superintendent of the McAllen Independent School District, said he is against anything that would take money away from public schools that are already struggling with enrollment declines.
"If you look at what's best for a great state, it would be to fund public institutions," Gonzalez said.
Worries about impact on LGBTQ students
While SB 8 doesn't explicitly target LGBTQ people, opponents have raised concerns that the bill's broad scope and vague language would prohibit Texas schools from acknowledging the community's existence. During the Thursday hearing, Democratic Sens. José Menéndez of San Antonio and Sarah Eckhardt of Austin said the bill could also stop students from learning about a wide range of issues — from the women's suffrage movement, to the landmark ruling for marriage equality, to the leading cause of cervical cancer.
Menéndez also attempted to clarify during the hearing that SB 8's proposed restrictions would cover instructions and activities regarding all identities, including heterosexuality and cisgender identity. But his amendment died.
"If we're going to restrict teachers from teaching on any kind of gender identity, I think it should be applied equally," he said. "I would like to eliminate the double standard that's been created in this bill."
SB 8's critics have also said the legislation would violate the constitutional free speech protections of students, despite Creighton insisting that the bill targets teaching instruction rather than a student's expressions.
"The Supreme Court has been very clear that students not only can engage in speech, but they also have a First Amendment right to receive information … and so even that one clause doesn't salvage this bill," Brian Klosterboer, an attorney with the ACLU of Texas, told the Tribune last month.
This provision of the bill is similar to a controversial ban in Florida that critics have dubbed the "Don't Say Gay" law. Florida is also now looking to up its restrictions from third grade to 12th grade.
In addition, SB 8 would require schools to notify parents of any changes to their children's "mental, emotional, or physical health or well-being." During the hearing, Menéndez sought an amendment that would prevent LGBTQ students from being forcibly outed to their parents, which could potentially put them at risk of harm at home. That effort failed.
"I certainly respect the spirit and intent behind what Senator Menéndez offers to us today," Creighton said in opposition of the amendment. "But other provisions of the bill speak to keeping kids safe and also on what is and isn't appropriate between teacher and students."
This story originally appeared on the Texas Tribune. To read this article in its original format, click here.