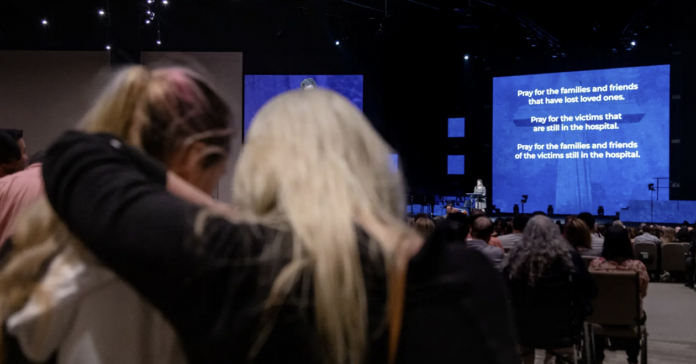 ALLEN — In the wake of yet another mass shooting, residents of this Dallas suburb on Sunday began a familiar ritual in American life: mourning the dead after a heavily armed man unleashed terror in a public place using a readily attainable military-styled weapon.
Familiar, too, were the statements from lawmakers, disagreeing over whether anything could be done to prevent such shootings.
The day after a gunman armed with an AR-15-style rifle killed eight people and wounded at least seven others at Allen Premium Outlets, residents of Allen — home to nearly 107,000 people — found themselves grappling with the horror that a uniquely American phenomenon had now visited their backyard.
Three men erected crosses for each of the dead near an American Eagle store on the southern side of the mall. Onlookers laid flowers there in tribute to the victims.
Family members on Sunday identified Christian LaCour as one of the victims. LaCour worked as a security guard at the mall and grew up in Farmersville.
"He was such a beautiful soul, 20 years old with goals for his future," Sandra Montgomery, LaCour's grandmother, wrote on Facebook. "I was so proud of him and so glad I got to see him 2 weeks ago."
Authorities had not released the names of the victims in the shooting by Sunday evening, and the mall remained locked down Sunday as law enforcement officials continued investigating the scene. Shoppers who escaped the gunfire Saturday returned early Sunday for their cars but were turned away. As they waited for access, they recounted how they fled and hid in terror as bullets flew at the packed outlet mall.
Elder Flores, a 34-year-old construction worker from Mesquite, brought his six young children and his brother to the outlet mall to shop for Mother's Day. When the gunfire started, his oldest daughter — Danna Flores, 10 — grabbed her siblings and ran.
"We were running for our lives," she said. "It was really scary."
Helen Bennett and her daughter Karen, who live in Sunnyvale, had gone shopping to celebrate Bennett's birthday. They were in the Hanes store when they heard the first shots. The manager of the store locked the doors and pulled the Bennetts and about a dozen other customers, including a woman with an infant, into the back room.
"You could hear the shots: bam, bam, bam, bam, bam, bam, bam, bam," Bennett said. "I thought, 'Will they ever stop?'"
Eventually, they did, but the Bennetts and the other shoppers remained in hiding for at least two hours waiting for the all-clear. The shoppers sang "Happy Birthday" to Bennett to try to lighten the mood.
"We'll be traumatized for quite some time," Bennett said. "It's hard to even talk about. I know we have to get over it."
Ernesto Garcia, a 41-year-old Allen resident who's lived here for 10 years, received a text from his wife around 3:30 p.m. Saturday telling him that she and her aunt were locked inside the Kay Jewelers store as the shooting started.
"My first thought was, 'Hey, this is a joke. This is a prank. This can't be happening,'" Garcia said.
Garcia waited for two hours at a nearby Mexican restaurant before the lockdown was lifted and he was reunited with his wife. It was a shock, he said, for something like this to happen in what's normally a calm town.
"You can't go to the movies, you can't go to the shopping mall," Garcia said. "You can't even go to church because you don't know if an outraged person is going to be doing this. It's just so unreal. I don't know what goes through their minds to be doing something like this."
Despite the shock, it's the ninth time in 14 years that Texas residents have endured a deadly mass shooting. So far this year, the mass shooting at the Allen mall is the second-deadliest in the country.
Politicians, too, have their own rituals. Texas Democrats have called for the passage of legislation that would raise the age to purchase a semi-automatic rifle in the state from 18 to 21.
Republican leaders, including Gov. Greg Abbott, downplayed the role of the assault-style rifle used in the shooting, shutting the door on any potential restrictions on firearms. Instead, Abbott and others called for improving mental health care. However, research shows mental illness isn't a good predictor of violent behavior.
Bennett was skeptical Sunday that any gun restriction would prevent the carnage seen at the Allen outlet mall.
"Even if they ban guns, I still don't think there's any way to control it," Bennett said. "There's just deranged people in the world."
Hundreds of congregants gathered Sunday at Cottonwood Creek Church in Allen and sang "Amazing Grace" during a quiet and solemn vigil for the victims — interrupted once by a man who shouted in favor of gun restrictions before he was quickly escorted out of the service. Abbott, Lt. Gov. Dan Patrick and Attorney General Ken Paxton attended the service but did not speak.
"Every one of us longs in our heart for a better place," senior pastor John Mark Caton said. "We long for a better community."
About a dozen protesters — some holding signs that read "My kids are worth more than your guns" and "I don't want to be murdered at the mall" — greeted cars as they pulled into the church parking lot.
"I could have been there shopping," said Aneesha Asher, a 56-year-old doctor who's lived in Allen for 16 years. "My kids could've been there shopping."
This story originally appeared on the Texas Tribune. To read this article in its original format, click here.