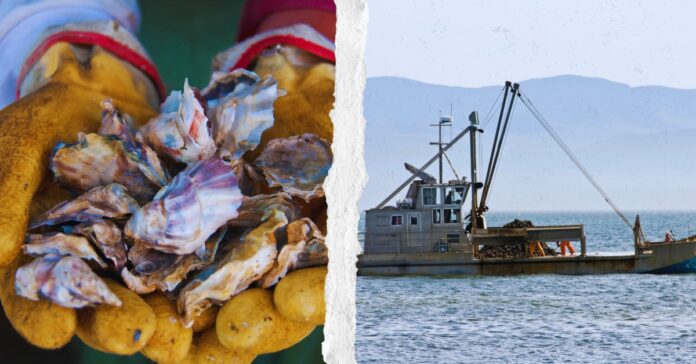 If you love oysters, you may want to stop reading, because the latest news about the delicious shellfish is not good, for consumers or the fishermen who depend on them for their livelihoods.
The Texas Department of Health and Human Services recalled oysters harvested in the TX 1 shellfish area of Galveston Bay between Nov. 17 and Dec. 7 due to reported illnesses from Texas to as far away as North Carolina.
The latest recall of Galveston Bay oysters from the Southeastern side of the waterway is yet another setback to an industry that has struggled for the last fifteen-plus years despite new oyster harvesting techniques, and it threatens hundreds of small businesses engaged in the trade.
DHHS is currently investigating reports of about 57 suspected cases in Texas alone, and more than 200 suspected cases across the Gulf states of Alabama, Florida, Georgia, Louisiana, and Mississippi, as well as North Carolina and Tennessee.
The agency has ordered the TX 1 harvest area remain closed until Dec. 30 while state epidemiologists and local health departments investigate the cases. Anyone experiencing any symptoms after eating oysters should contact their healthcare provider and report their exposure to raw oysters.
Consumers and restaurants should check the packaging of any in-shell or shucked Texas oysters and discard any from TX 1, and if they cannot determine the origin of the packaging, they should contact the seller.
The website iwaspoisoned.com received reports of 72 people in the Greater New Orleans area who became sick after eating raw oysters starting on Nov. 30, according to Patrick Quade, the founder of the website.
The illnesses were caused by an outbreak of norovirus associated with raw oysters, which causes inflammation of the stomach and/or intestinal lining, and symptoms range from nausea, vomiting, diarrhea, and stomach cramps to fever, headache, and body aches. Symptoms typically start 12 to 48 hours after exposure and usually subside in a few days, but some may need to be hospitalized for dehydration.
The shutdown just weeks into the six-month oyster season leaves only one public oyster fishery open in Galveston Bay and is a devastating blow to oyster fishermen struggling to provide for their employees and their families with the holiday season underway.
After a decade and a half of massive hurricanes hitting the Texas Gulf Coast have severely damaged oyster reefs, leaving fewer and fewer available for fishermen to work each year. From Tropical Storm Allison — to Hurricanes Ike and Harvey — to recent drought conditions, the environment for oystering has deteriorated since the early 2000s.
Climate change causes gulf water to remain warmer longer, which also impacts the harvest season of the highly sought-after bivalves. And pollution from oil spills, fertilizer runoff, and industrial facilities also negatively impacts the oyster reefs.
Texas' commercial oyster harvest season runs from November through April. But as the Texas Parks and Wildlife Department has recently closed 26 of the state's 34 public oyster reefs to harvesters, citing declines in the number of larger, market-sized oysters being found in catch audits, supply is negatively impacted.
So, Texas officials, backed by environmental advocates and academics, have closed reefs and further shortened harvesting seasons, saying the oysters needed to be protected to help the shellfish population regrow.
Earlier this year, Amanda Fuller, director of the coast and water program from the National Wildlife Federation, told the Houston Chronicle that closing the reefs "is the right move."
"I think that there's still a very large and looming question about the overall sustainability of the oyster fishery in Texas and Gulf-wide," she added.
According to the Texas Observer, The Gulf of Mexico is one of the last places where wild oysters live, and Texas is one of the last places where people harvest oysters from natural reefs, rather than farming them.
The Gulf Coast produces 45% of the nation's $250 million oyster industry, according to NOAA, and the Texas oystermen contribute an estimated $50 million to the state economy.
"We really are at a crossroads," said Jennifer Pollack, a marine biologist at the Harte Research Institute in a recent interview.
The recent Texas coastal bed closures have already forced restaurants to source oysters from Louisiana and other Gulf states and Atlantic coast states like Virginia to meet market demand. But when importing them from far away states, they have to pay more, and therefore charge more for the delicacy due to increased shipping costs.
State officials and environmentalists feel that modern fishing methods — primarily metals dredges plowing through the beds — add to the damage to oyster reefs, further impacting oystermen who have made the harvesting of the shellfish their life's work.
Last month, Alex and Adrian Gutierrez went to Austin to plead with Texas Parks and Wildlife officials to keep the Texas coastal beds open, rather than permanently closing them, according to statements to the Houston Chronicle.
But the commissioners voted to permanently close three bays near Matagorda Island to oyster fishing, further damaging the state's home-grown supply.
The moves further endanger an industry that may see many independent smaller oyster companies go out of business.
Others say they will survive but will suffer substantial losses due to the closures and the recent recall.
"When you force that many boats onto that small of a reef, for that many days, with the water being warm for this time of the year, the oysters start to die and the shelf life is very short," said Johny Jurisich, a Texas City oyster fisherman and wholesaler in a recent Houston Chronicle interview. Jurisich is the owner of US Sea Products.
He estimates that his family's company will lose a couple hundred thousand dollars this season, and he blames new state regulations and bed closures.
"The market is in shambles," Jurisich said. "People have told me and my brother that they will not buy a Texas oyster this season."
Jurisich's father-in-law, fellow fisherman and wholesaler, Misho Ivic, owner of Gilhooley's Restaurant and Oyster Bar in San Leon, said he will source his oysters elsewhere "to play it safe."
"Everyone will have to do the same thing … we'll have to get oysters from different areas," Ivic said.
Some of the fishermen say problems that led to the current closures were bound to happen as the smaller number of open reefs being fished by cramped armadas of boats in so few spaces damaged the harvest. And unseasonably warm fall water temperatures this fall didn't likely help the situation either, essentially creating an incubator for viruses that make consumers sick.
Consuming raw, lightly cooked or undercooked oysters can cause viral-based illnesses, and pregnant women, elderly people, and people with compromised immune systems should avoid consuming them. Some viruses found in shellfish can even survive cooking, so caution is advised for those groups.
And the cause of the current recall, the norovirus, isn't the only thing the shellfish might contain that can make people sick.
Vibrio vulnificus, a naturally occurring bacteria sometimes found in raw oysters, can cause mild symptoms in healthy people, but quickly becomes life-threatening in those consumers with underlying conditions such as liver disease, diabetes, cancer, or AIDS. 
The European Union no longer accepts Gulf oyster imports due to the risk of illness and possible death in high-risk consumers. However, in the U.S., Gulf-sourced oysters account for about half of the amount consumed domestically. Especially in Texas, Gulf oysters make up an ever greater percentage, while some more upscale restaurants bring in oysters from the North Pacific and Atlantic Coast.