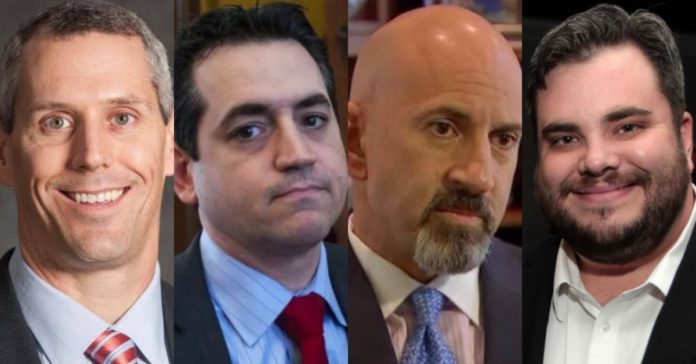 When most people hear about how a politician is bad for women's health, they immediately think it means the politician is anti-choice. It's a broken argument, which distracts from how there are many politicians in both parties (and of both genders) whose votes hurt women time and again. In most instances, these votes have nothing to do with reproductive health, and usually have something to do with some particular special interest group wanting a favor.
The real problem is whether it's Washington or Austin, the political system is a rigged game in favor of the moneyed and powerful special interests at the expense of everyday Texans. It's exactly what special interest groups and political action committees (PACs) count on when they contribute to political campaigns.
Over the course of their political careers, four state representatives: Matt Rinaldi (R – Irving), Matt Schaefer (R – Tyler), Matt Shaheen (R – Plano), and Jonathan Stickland (R – Bedford) have become highly skilled at raking in special interest campaign cash, collectively taking millions from corporate and special interests.
In particular, these four have taken tens of thousands of dollars from corporate insurance interests, and in return, have voted to protect the insurance industry.
According to the Texas Medical Association, Texas is the "uninsured capital of the United States," with more than 4.3 million Texans lacking health coverage, including 623,000 children. Moreover, according to the Texas Department of State Health Services, more than 120,000 new cases of cancer are diagnosed in the state, and more than 44,000 Texans will die from cancer each year.
Despite these appalling statistics, when the legislature has tried to extend or expand coverage, Rinaldi, Schaefer, Shaheen, and Stickland have stood in the way, fighting for corporate insurers and against women's health.
These four representatives opposed HB 2813 in the 84th Session of the Legislature, which required insurance companies operating in Texas to cover screenings for ovarian cancer, one of the deadliest cancers a woman can develop. The bill received wide bipartisan support, and was signed into law by Governor Abbott in 2015. They were four of six representatives to vote against HB 2813.
Two years later, they again voted with insurance companies and opposed HB 1036 in the 85th Session of the Legislature, which required coverage for a new procedure for detecting breast cancer. This bill also received wide bipartisan support and was signed into law by Governor Abbott in 2017. They were four of the fourteen representatives to vote against HB 1036. Collectively, Rinaldi, Schaefer, Shaheen, and Stickland were the only four state representatives to vote against both bills.
There's no good reason to oppose these bills – after all, who would vote against detecting cancer and saving women's lives? Apparently, Matt Rinaldi, Matt Schaefer, Matt Shaheen and Jonathan Stickland. They care more for getting credit from their special interest friends in the insurance industry than in protecting women's health and lives.
Taxpayers and consumers need to demand policymakers stop taking special interest cash, and stop sticking it to everyday Texans. We need to Reform Austin.