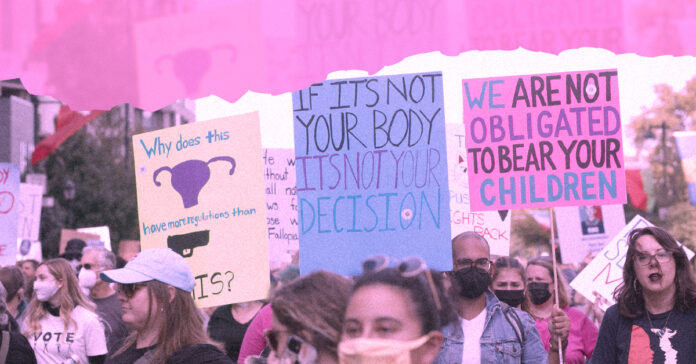 This story was originally published by The 19th.

In oral arguments Friday, a federal appeals court appeared poised to either halt or slow federal judicial proceedings that could have blocked Texas' six-week abortion ban. 
Three judges from the U.S. Court of Appeals for the 5th Circuit heard arguments on the nuances of a December Supreme Court decision allowing Texas' unusual abortion ban — which allows private citizens to sue anyone who helps someone end a pregnancy at six weeks or later — to be challenged in court.
In that decision, five of the Supreme Court's nine justices severely limited whom abortion providers could sue in their efforts to challenge the ban. The five conservative justices held that abortion providers can sue only medical licensing boards in Texas, which would theoretically punish doctors and other health professionals who perform abortions past six weeks. They ruled that abortion providers could not sue the state court clerks or other judicial officials who would help process these theoretical civil lawsuits, which have effectively ended access to most abortions in Texas. Last month, the Supreme Court sent the case back to the 5th Circuit — known as one of the most conservative appeals courts in the country — to determine how the case proceeds.
The court's decision could spell the end of the road for abortion providers to challenge the Texas law in federal court, redirecting further appeals to the state court system instead.
In Friday's arguments, lawyers for the state of Texas argued that it is unclear that those medical licensing boards can be sued. They said the appeals court should remand the case to Texas' state supreme court, which would then consider that specific question. In the interim, they added, the law should stay in effect.
Of the three judges to hear that case — Edith Jones, Stephen Higginson and Stuart Kyle Duncan — both Jones and Duncan appeared receptive to Texas' arguments.
Higginson, who was appointed to the court by former President Barack Obama, suggested that taking the time to consider the state's argument would delay — and perhaps ultimately deny — Texas abortion providers a Supreme Court-guaranteed right to challenge the law in court. Higginson was the only judge on the court to initially argue that the 5th Circuit should not hear arguments about whether licensing officials can be sued and should instead send the case back to a lower court for swift consideration on the constitutional merits of Texas' abortion law.
"It would be this court second-guessing the Supreme Court's interpretation," Higginson said. Such a move by a lower appeals court would be unprecedented, he added.
Even the decision to hold oral arguments was highly unusual, noted Melissa Murray, a professor at New York University and expert in reproductive law. She believes it is part of a strategy to postpone any relief for Texas' abortion providers for as long as possible.
"I have never seen an intermediate appellate court have oral arguments on whether to certify a question to a state supreme court. They just certify it and move on," she said. "This is a delay tactic."
Whole Woman's Health, one of Texas' largest abortion providers, argued that the 5th Circuit should instead send the case back to a lower federal court, the U.S. District Court for the Western District of Texas, whose judge was widely expected to issue an injunction that would have blocked the Texas abortion law.
"The only thing that this court can do that's consistent with the Supreme Court's judgment is to remand," said Marc Hearron, an attorney with the Center for Reproductive Rights, who argued on behalf of Whole Woman's Health.
It is not clear when the 5th Circuit will issue a decision on this case. Jones, who was appointed to the court by former President Ronald Reagan, asked if the case's circumstances could change in the coming months, as the U.S. Supreme Court weighs another abortion case, known as Dobbs v. Jackson Women's Health Organization.
A decision in that case is expected this summer, and many observers believe that the Supreme Court will use the case to overturn Roe v. Wade entirely. Sitting on a Supreme Court case until this summer would also be highly unusual, legal observers and analysts have suggested.
The Texas abortion law has been in effect since September 1. It has already inspired copycat legislation in other statehouses, and more is expected this year.
In the four months it has been in effect, it has resulted in a dramatic decline in abortion access, pushing pregnant people in Texas to travel to other nearby states — including Louisiana, Oklahoma, Kansas and New Mexico – to seek care. Many clinics in those states have said the surge in patients is putting immense strains on their ability to provide abortions, with many booked solid weeks in advance.