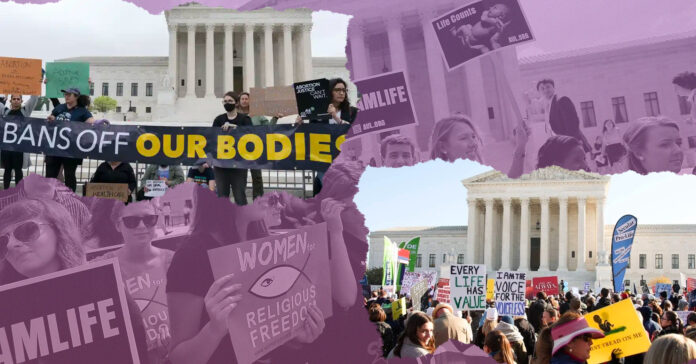 On Tuesday, the head of the Supreme Court confirmed the authenticity of a leaked draft, obtained by Politico, which indicated the Court's intentions to overturn Roe v. Wade.

A staggering blow to women's rights that would reverse nearly 50 years of constitutional protection for abortion, letting the states set their own restrictions on the procedure.

The draft opinion, which was written by Justice Samuel Alito, calls the landmark 1973 Roe v. Wade "egregiously wrong from the start."

"We hold that Roe and Casey must be overruled," the draft obtained by Politico reads. "It is time to heed the Constitution and return the issue of abortion to the people's elected representatives."

Since the 1973 ruling in Roe v. Wade, the court has consistently struck down bans on abortion before viability, the point at which a fetus could likely survive outside the womb, usually seen as 22 to 24 weeks of pregnancy. The 1992 decision in Planned Parenthood v. Casey upheld Roe v. Wade and ruled that states could not impose restrictions that created an "undue burden" on pregnant people seeking an abortion, as reported by The Texas Tribune.

But with this Mississippi case, the court agreed to reconsider the precedent set by Roe v. Wade – which according to the draft opinion might even mean completely eviscerating both Roe and Casey.

What does this mean for Texas?

If this draft reflects the final decision of the Court, it would virtually eliminate abortion access in Texas.

According to Lt. Gov. Dan Patrick statement, Texas' Trigger Bill would go into effect 30 days after the Supreme Court overturns Roe v. Wade. Protecting the mother from any criminal or civil penalty, and the doctor who attempts an abortion would be charged with a second degree felony. If the baby dies, that doctor would face a first degree penalty.

"Texas has led the way to protect innocent life in the womb, and we will continue to do so moving forward in the Texas Senate," said Patrick.
More than half of all states are expected to ban abortion if Roe v. Wade is overturned. Which would mean the average texan would have to drive 525 miles, just to obtain an abortion, according to the Guttmacher Institute.

Even though Chief Justice John Roberts confirmed the authenticity of the draft opinion, he said it does not reflect the court's final decision. He also ordered an investigation into the source of the leak.

"To the extent this betrayal of the confidences of the court was intended to undermine the integrity of our operations, it will not succeed. The work of the court will not be affected in any way," Roberts said.