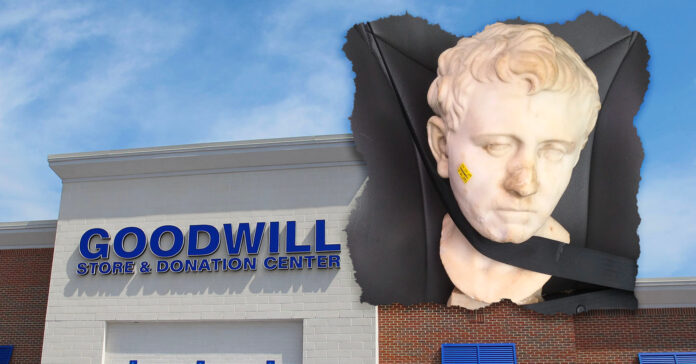 Laura Young discovered the bust in 2018, unceremoniously stowed beneath a table in an Austin Goodwill store. She knew the price tag on its cheek grossly undervalued the piece.
"I got it outside in the light," she said. "He had chips to the base. He had clear repairs. He looks old. I've been to museums. I've seen Roman portrait heads before."
She did a Google image search for "Roman bust" and realized, "They look a lot like my guy."
After taking the bust home, Young contacted two auction houses, Bonhams and Sotheby's. They agreed the bust was likely from ancient Rome.
The bust, however, was not hers to sell. A Bavarian King, Ludwig I, had acquired the piece in 1833 and displayed it at his replica Pompeian villa in the town of Aschaffenburg.
The villa, referred to as the Pompejanum, received heavy bombing raids in 1944 and 1945 and became a victim of looters.
Leila Amineddoleh, Young's lawyer, believes an American soldier either stole or traded for the piece of art, which then slowly made its way to Austin.
However, the German government never sold or relinquished the title associated with the piece, making them the rightful owners.
"Immediately, I was like, 'OK, I cannot keep him and I also cannot sell him,'" Ms. Young said. "It was extremely bittersweet, to say the least. But I only have control over what I can control, and art theft, looting during a war, is a war crime. I can't be a party to it."
Young agreed to return the bust to Bavaria in exchange for a "small finders fee" of an undisclosed amount.
"We are very pleased that a piece of Bavarian history that we thought was lost has reappeared and will soon be able to return to its rightful location," Bernd Schreiber, president of the Bavarian Administration of State-Owned Palaces, Gardens and Lakes, said in a statement released by the San Antonio Museum of Art.
The San Antonio Museum of Art will display the bust until May 2023, which was important to Ms. Young.
"He's been hidden for 70 to 80 years; I think he deserves some attention," she said. "And I think he deserves some attention in Texas."
"It's hard a little bit because this is probably going to be the coolest thing I ever find, and it's over," Young said. "But there's always something else to find. If you're an antiques dealer, there's always something else."