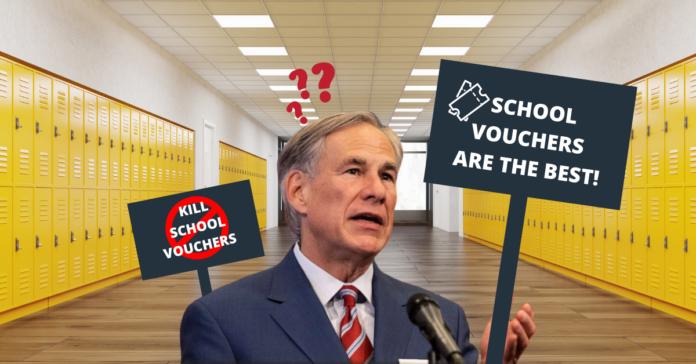 On Monday evening, as many Texans were still finishing their dinners, Governor Greg Abbott tweeted his full-throated support of private school vouchers – something with which most Texans disagree and which the Texas Legislature has repudiated for over twenty-years. 
In a supper-time tweet, Abbott brazenly declared that "Empowering parents means giving them the choice to send their children to any public school, charter school, or private school with state funding following the student." In other words, vouchers. 
The Coalition for Public Schools, a group of over 40 of the state's largest and most influential public school advocacy organizations, states on their website that,  "Anything that diverts public funds (through a tax credit, rebate, scholarship or any other means) to directly or indirectly subsidize a private education is a voucher." 
It is clear that Abbott's statement of support for parents meets this criteria to be defined as vouchers. What is not clear is Abbott's thought process by mentioning this during a runoff election which includes a number of anti-voucher incumbents that he endorses and that the Speaker of the House Dade Phelan has supported. He may be hanging his own people out to dry by bowing to the whims of a few in his far right-wing base.
The word in education circles is that acolytes of former US secretary of education, Betsy DeVos, successfully pressured Abbott to endorse vouchers by giving him an ultimatum: either you're with us or against us. Apparently, Sen. Ted Cruz has been exploiting the issue among national donors to create a distinction with Abbott.
While this misguided policy statement may be confusing to those Abbott allegedly supports, it is not unclear to the public education community at large. The Texas School Alliance, an organization that comprises 44 of the largest school districts in Texas and educates 42% of the state's total enrollment, tweeted in response, "You can't fully fund public schools and address the worst teacher shortage in Texas history by siphoning off public dollars to private schools. The math doesn't work. This voucher scheme provides a tuition break for the wealthiest Texans who already send their children to private schools, while blowing a hole in public school budgets, harming more than five million Texas students. It is the last thing we should do following a disruptive pandemic."
This isn't the first time the Governor has been accused of indecisiveness and duplicitous behavior, colloquially known as "talking out of both sides of your mouth." Texans will remember his almost daily position changes during the coronavirus pandemic and his mishandling of the Winter storm power outages of 2021.  
Abbott faces a relatively strong challenge from Democratic hopeful Beto O'Rourke in November, but whether or not O'Rourke can capitalize on this latest positional statement remains to be seen. In April, one poll showed O'Rourke behind Abbott by as little as two points. But a recent poll shows a much larger margin. Given Abbott's most recent statement, if O'Rourke adopts a more robust pro-public education and anti-voucher stance he may be able to close that gap.
If he is re-elected and is successful in advancing vouchers in the next legislative session, Abbott faces still more challenges, like determining which private religious schools actually receive state funds. Will gifts of taxpayer funds apply as equally to Wiccan schools as they will to Christian, Jewish, or Muslim schools? One wonders where or how the line will be drawn without violating the establishment clause of the first amendment by the government showing a preference for one religion over another? 
Perhaps Abbott will change his mind once again about vouchers or perhaps, like Scrooge, he will blame his suppertime decision on an "undigested bit of beef, a blot of mustard, a crumb of cheese, or a fragment of an underdone potato." Either way, Texans deserve a decisive Governor who has their best interests at heart.