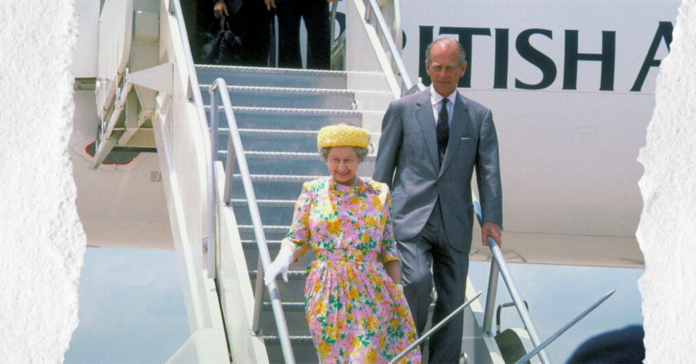 Today, Queen Elizabeth died at Balmoral Castle, in Scotland. Early this year, in February, she achieved her 70th year on the British throne, which made her the longest-serving Monarch in British History. In all those years, the Queen visited more than 100 countries, including several visits to the United States. The one she made in 1991 is especially relevant as she became the first British Monarch to set foot in Texas.
The visit was rather short as she stayed only three days in the Lone Star State but she was able to visit Houston, Austin, Dallas, and San Antonio. At that point, Texas had already been visited by 14 Kings, Queens, and Princes, including Charles, the Prince of Wales, five years before his mother, but Elizabeth II was especially celebrated among Texans.
When she arrived at Love Field Airport, she was greeted with strains of "The Yellow Rose of Texas" and "God Save the Queen". It is important to remember that Texas has a very singular relationship with the British Monarchy as Britain was one of the few nations that recognized the Republic of Texas and the government of that newly born country even proposed returning to the British Empire, but the U.S. had other plans for Texas.
Queen Elizabeth's itinerary in Texas included visits to the River Walk, NASA, the Antioch Missionary Baptist Church, the Alamo, and the State Capitol. At the Capitol, she was gifted with a Texas flag, a book about the Capitol's history, and a pair of cowboy boots. She answered to that gift by saying: "Why didn't I come here sooner?"
At the Capitol, Gov. Ann Richards hosted the Queen and 8,000 people. She, of course, was a success, but the Duke of Edinburgh also surprised the Texan society. As Louise Caldwell, president of the Dallas Historical Society and the person who sat next to him recalls: "It was very hard to find anything that he didn't know more about than me… including Texas history."
Today, Britain lost one of the pillars of its modern history. Gov. Greg Abbott published this mourning message on Twitter: "She was more than a leader of one of the greatest monarchies in history & a close U.S. ally; she was a mother, a grandmother, & a wife who showed a deep devotion to her family & to her nation."