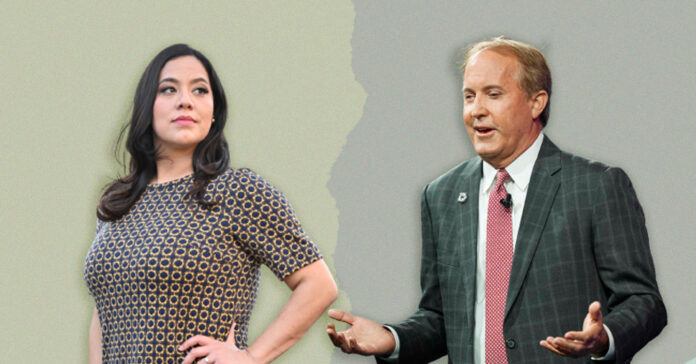 Governor Greg Abbott and Beto O'Rourke may grab all the headlines, but the most recent polls are showing that the fight for Texas Attorney General might be the best bet for a Democratic win this November.

Last month, a poll from The Dallas Morning News and the University of Texas at Tyler querying 1,384 registered voters showed Attorney General Ken Paxton neck-in-neck with Democratic challenger Rochelle Garza. The poll had her at 32 percent to Paxton's 34 percent, with 18 percent unsure and 15 percent preferring someone else.

This month, a new statewide poll from UH Hobby School & TSU Public Policy School, querying 2,140 YouGov respondents 18 years of age and older, continued to show Garza's rise, putting her only 3 percent below Paxton, 45 percent to 42 percent, with 10 percent undecided.

Abbott and Patrick's respective 7% and 6% leads over their Democratic rivals – O'Rourke (49% to 42%) and Mike Collier (49% to 43%) – are twice the size of Paxton's lead over Garza, making the Attorney General's race the one to watch.

Garza's increase in popularity had more to do with Paxton and Texas Republicans' sharp rightward actions over the past year than her own attributes, according to The Dallas Morning News and the University of Texas at Tyler poll.

A quarter of Garza supporters said that the reason they were choosing her was because she was a Democrat, and another 13 percent said that the reason was simply that she was not Paxton. Twelve percent said the reason was because she fosters trust and has integrity. Tellingly, this is double the Paxton supporters who claimed this reason.
It's easy to see why. Paxton remains both under indictment for securities fraud and federal investigation for abuse of his office. His legal woes have been slow-walked by his office, and Paxton has stayed ahead in the political game by endorsing several far-right culture wars to handily win his Republican primary earlier this year.
Paxton was also ordered by the January 6 Commission to turn over records in January related to the attack and attempted coup at the U.S. Capitol in 2021. His association with Trump's attempt to thwart the election is likely not helping him with moderates as the tide of public opinion turned against Trump.
Meanwhile, Garza has proven to be in the right place at the right time. Not only has the political landscape shifted more in Democrats favor nationally, the overturning of Roe v. Wade has energized the usually lethargic Democratic base in the midterms. Garza, a civil rights lawyer who took on the Trump Administration over abortion access for detained migrants and won a stunning legal victory, is an avatar of reproductive choice resistance in Texas.
Still, Garza has an uphill battle, even with the scandal ridden Paxton as an opponent and a liberal wind at her back. No Democrat has held the Texas Attorney General office since 1999, and no Democrat has won statewide office in Texas since 1994. The attorney general position has been a coveted springboard for Texas Republicans looking for higher office. Both Sen. John Cornyn and Abbott are former Texas AGs.
Garza also trails Paxton considerably when it comes to donations. So far, she has raised just over a million dollars, whereas Paxton has raised eight times that. Most of Garza's funds come from small donors and groups like Emily's List, while Paxton has the backing of oil and gas tycoons like Douglas Scharbauer andSyed Javaid Anwar, as well as Buc-ee's owner Donald Wasek.
Analysts say the former ACLU lawyer needs at least $10 million down the stretch to pull off the upset, which would include some television ads in the state's costly media markets.
The fact that Garza is doing so well with so little compared to Paxton is a powerful indicator the state is displeased with the attorney general.