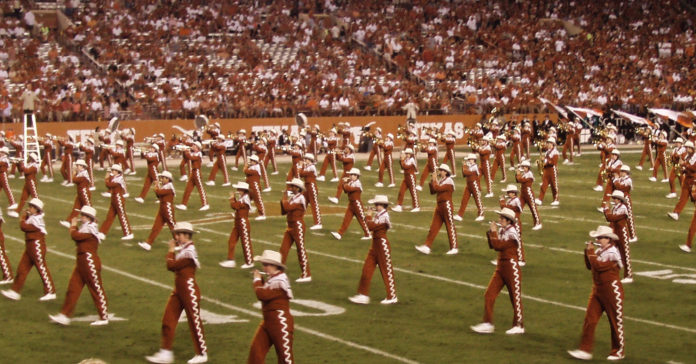 "The Eyes of Texas" will be played at Saturday's University of Texas at Austin football game, but not by the Longhorn band.
Band members were surveyed this week about their willingness to play the traditional alma mater song. "Based on (survey responses), we do not have the necessary instrumentation, so we will not participate in Saturday's game," Longhorn Band director Scott Hanna said in a message obtained by the Daily Texan.
Earlier reporting by the school newspaper revealed that band members no longer feel unified by the song that has racist roots dating back to Confederate General Robert E. Lee and minstrel shows in which performers wore blackface. During last summer's Black Lives Matter protests and calls for racial justice reform, some UT student-athletes asked for a new song. 
On Wednesday, UT President Jay Hartzell said the band wasn't actually scheduled to play this Saturday.  Instead, a recording of the song will be played.
"The Eyes of Texas will be played this weekend as it has been throughout this season – and it will continue to be played at future games and events," wrote Hartzell in a statement to the UT community. "While we would love the band to be with our fans at all our games, we never planned for them to perform live this Saturday. We knew this summer that, as we make our campus a more welcoming place, we would face many hard conversations. I remain truly optimistic that we will find ways to join together around our song, which has been so positive for so many Longhorns over the past 120 years."
Hartzell's statement was followed by UT System Board of Regents confirmation that "The Eyes of Texas" is not going away.
"To be clear, the UT System Board of Regents stands unequivocally and unanimously in support of President Hartzell's announcement that "The Eyes of Texas" is, and will remain, the official school song," wrote board chair Kevin P. Eltife.
A study Hartzell has ordered about the origin and meaning of the song is expected to be completed by January.
The UT game against Baylor University kicks off at 2:30 p.m. Saturday at Darrell K Royal-Texas Memorial Stadium.