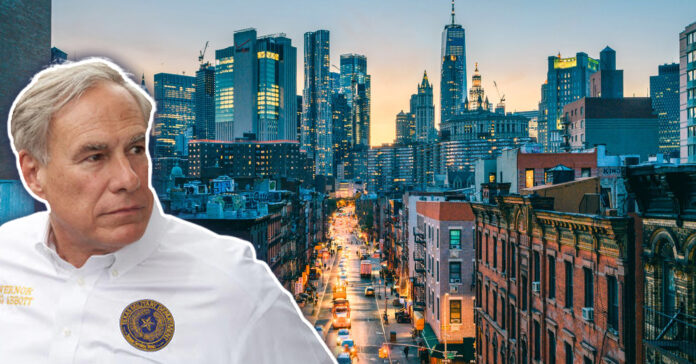 Gov. Greg Abbott has extended his migrant "bussing program" route from Washington D.C to New York City. This comes as the Governor's response to the Biden Administration's open border policies overwhelming Texas communities.

On Friday, Abbott announced the arrival of the first group of migrants at New York's Port Authority Bus Terminal.

"Because of President Biden's continued refusal to acknowledge the crisis caused by his open border policies, the State of Texas has had to take unprecedented action to keep our communities safe," said Abbott. "In addition to Washington, D.C., New York City is the ideal destination for these migrants, who can receive the abundance of city services and housing that Mayor Eric Adams has boasted about within the sanctuary city. I hope he follows through on his promise of welcoming all migrants with open arms so that our overrun and overwhelmed border towns can find relief."

According to The Houston Chronicle, last week, D.C. Mayor Muriel Bowser called for the National Guard to help D.C. to deal with the influx of migrants coming to the city.

"We need space and we need the federal government to be involved," Bowser said at a press conference last week.

Seeing this as a win, during the Conservative Political Action Conference, Abbott boasted about his border initiative and praised former President Donald Trump's immigration policies.

On Thursday, Abbott said D.C. officials are now feeling what Texas feels every day as the surge of migrants continues to come across the border. Abbott said Texas has now sent more than 6,500 immigrants to D.C. and they cannot handle it.

"I got one thing to tell you and tell them, there are more buses on the way as we gather at this conference today," said Abbott.

He said by sending the immigrants to D.C. he's showing other cities what Texas is dealing with since President Joe Biden took office.

Abbott's program cannot force migrants to go to D.C., but many migrants are accepting the offer to get to immigrant-friendly D.C., which has declared itself a sanctuary city.

New York, which also views itself as a sanctuary city, is one of the few cities in America with right to housing laws, which means they are required to provide emergency shelter for every unhoused person.

New York City Mayor Eric Adams, slammed the Lone Star State Governor for using migrants as "political pawns," after the arrival of the first bus to NY.

"His continued use of human beings as political pawns is disgusting, and an embarrassing stain on the state of Texas," said Adams spokesperson Fabien Levy in a statement.