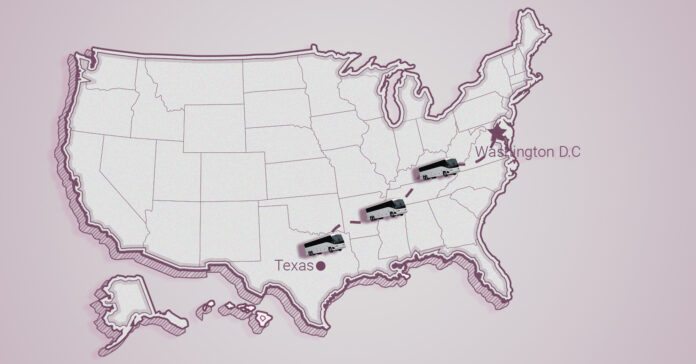 Gov. Greg Abbott's tough-on-immigration act of defiance against the Biden administration turned out to be a helping hand for migrants who had spent months getting to the Texas border and only – thanks to Abbott – thirty hours to get to the U.S. capital.
Last month, Abbott announced Texas state troopers in riot gear would meet migrants at the border and bus them straight to the steps of the U.S. Capitol in Washington D.C., where he said the Biden administration "will be able to more immediately address the needs of the people that they are allowing to come across our border," as reported by The Dallas Morning News.

Many of the asylum-seekers had spent months on their journey to Mexico's northern border, exposed to dangers posed by criminal gangs and human trafficking. So when presented with the opportunity of thirty hours of travel in a climate-controlled bus, with food and protection, they eagerly accepted.

"I thank [Abbott] wholeheartedly because I was able to make it safe and sound and, even better, with good service and at no cost. I consider it true humanitarian aid," said Victor Rodríguez, a migrant who was part of the governor's campaign to protest the federal government's immigration policies.

"I think what the governor is doing is of great help because it allows migrants who have no money, like me, to arrive or get closer to our destination."

The bus was also equipped with Wi-Fi, restrooms, electrical outlets and the travelers were fed every eight hours and got blankets to stay warm.

"They played the radio for us, but we all fell asleep because we were very tired from the weeks of travel it took us to get here. I felt safe there," Rodríguez said in an interview with Dallas Morning News.

In the end, the government of Texas, which has spent more than $2 billion trying to prevent migrants from entering the country, helped hundreds get to Washington, D.C., free of charge.
As a matter of fact, Abbott had planned to pay the expenses of his little project with Texas taxpayers money. However, that didn't pan out.

After the governor received criticism for misusing taxpayer dollars in a project that actually incentivizes migrants to cross into Texas, he asked Texans to personally contribute their own money to pay for the trips.

"Congratulations to Governor Abbott," Texas Rep. Gene Wu said Tuesday in a tweet. "Word will be passed from community to community that if you can just get to Texas, the Governor there will pay for your transportation anywhere in the USA."

If Abbott's intention was to be the migrants' guardian angel for a portion of their grueling trip into the U.S., then he has succeeded with flying colors.

"Welcome! Welcome to the United States!" a group of activists greeted Rodríguez ' outside Union Station upon his arrival in one of Abbott's charter buses.
"I kind of still can't process it, I can't believe it," Rodríguez said with a smile. "My life starts now."

According to The Dallas Morning News, Rodriguez saved $231 — the cost of the 1,750-mile bus trip. Also, because it was nonstop, he saved at least 18 hours of travel time.