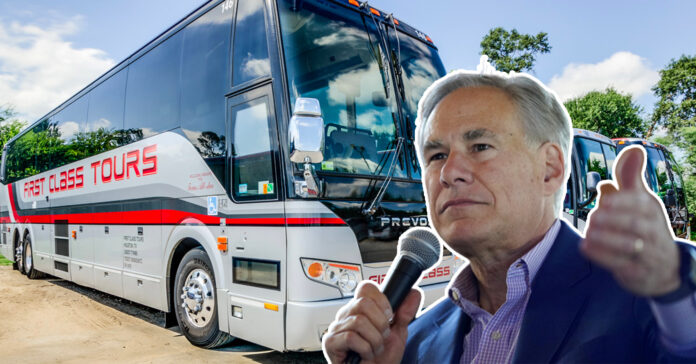 The past year has been marked by a series of anti-immigrant publicity stunts by Governor Greg Abbott, who has been shoring up his conservative base ahead of the November election. In his latest move, he has vowed to continue bussing captured immigrants to Washington D.C., especially if Title 42 ends.
"We're sending more and more buses & esp. if Title 42 is lifted, which is what we're really getting ready for, .. to make sure we will be able to remove these people from the state of Texas, there will be massive busloads going up there' to DC," reported Dallas Morning News Austin Bureau Chief in a tweet on Thursday, quoting the governor.
Abbott, claiming a failure by President Joe Biden to secure the border, has been bussing immigrants to the nation's capital and using it as a fundraising stunt. Politicians nationwide such as Steve Scalise have jumped on the train, sending out emails praising the governor and hoping to "reinstate [former President Donald Trump's] America First agenda."
At least ten busses of immigrants have been sent to D.C. at Texas taxpayers' expense. The endeavor has been met with confusion by federal border agents, who feel that the bussing complicates their jobs. Immigrants are being sent far away from the jurisdictions where their processing is being handled, making it more difficult for them to attend hearings. Abbott's failure to coordinate with the Customs and Border Patrol as he continues his stunt is throwing gears in the legal process the immigrants are required to participate in.
"As individuals await the outcome of their immigration proceedings, they are legally obligated to report in for the next steps in their immigration process and permitted to travel elsewhere," CBP Chief Chris Magnus told the Texas Tribune. "CBP's close partnerships with other government and non-governmental stakeholders are essential to this effort, and to ensuring fairness, order, and humanity in the process."
Abbott launched the bussing program after Biden announced he would be ending Title 42, a Trump-era program that sped the expulsion of immigrants under quarantine provisions. As the pandemic slows thanks to high vaccination numbers, Biden has sought to slow down the expulsions. The move brought immediate scorn from Abbott and other conservative anti-immigrant politicians, who falsely claim Biden has enacted an open border policy.
Currently, the repeal of Title 42 is being held up in federal court and is still in effect. However, if Biden prevails, then Abbott's statement shows he plans to increase his bussing program of leaving immigrants "on Biden's doorstep." It's another move that comes after a rash of high-profile failures at the border from the governor. These include Operation Lone Star, a costly deployment of the Texas National Guard that has led to a rash of desertions and suicides among the troops, who have been accused of entrapment. The governor cost the state more than $4 billion thanks to another scheme where he made the Department of Public Safety inspect all trucks crossing the border. The move pushed crossing times into hours, severely hurting the supply chain while capturing no immigrants, drug smugglers, or human traffickers.