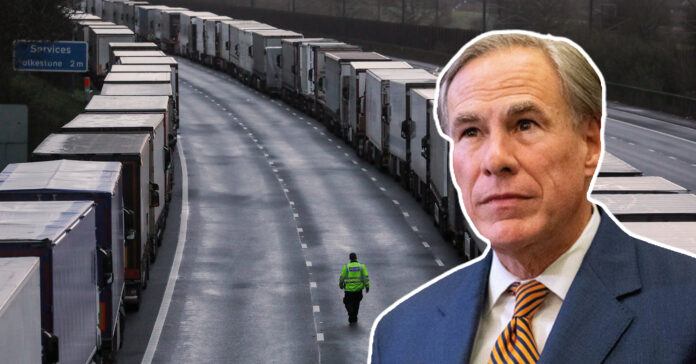 Facing a tough re-election campaign and wanting to reinvigorate his base, Governor Greg Abbott has greatly ramped up anti-immigrant activities at the southern border. Unfortunately, it's starting to cost the state enough money that even other Republicans are turning against him.
"This misguided policy will have little or no impact on the invasion on our southern border, caused by the inaction of the Biden Administration," says Agricultural Commissioner Sid Miller in an open letter. "Instead, this policy will hurt Texas and American consumers by driving up already skyrocketing food prices, worsening ongoing supply chain disruptions, causing massive produce shortages, and saddling Texas and American companies with untold losses."
Miller is referring to Abbott's latest order that all trucks crossing the border must be inspected by the Department of Public Safety. The stated reason is to stop drug smuggling and human trafficking, but there is little evidence that Abbott's actions are actually doing anything but causing massive delays. Trucks have been backed up for hours and days waiting for inspection, while on the Mexican side of the border blockades have been erected as protests against the policy. Crossings that previously took half and hour stretched to three hours or more in Laredo, the biggest trucking port in the country. More than 2 million trucks cross the border annually.
"Trade groups are calling this a supply chain crisis, and they're seeing millions of dollars being lost per day," says Texas Public Radio's Pablo De La Rosa reporting from McAllen. "The White House, the Department of Homeland Security, even Customs and Border Protection – they've all issued press releases saying that this is unnecessary, and it's being caused by the Texas Department of Public Safety at the order of Abbott."
Abbott is finding himself in a common position for anti-immigration politicians in Texas. Nationalism and scapegoating are often at odds with the economic reality of trans-national travel. In response to Abbott's order, the U.S. Customs and Border Patrol put out a fact sheet explaining how essential a smooth process for trucking at the border is.
More than $200 billion worth of goods came through the southern border in 2021. The various bridges have seen drops from 35 to 60 percent since the start of Abbott's stoppages, which the USCBP says are unnecessary as they already perform routine inspections ahead of the ones Abbott has ordered.
The delay of goods is likely to exacerbate the already high inflation that the country is seeing, which is one of the things that prompted an outcry from Miller.
"If your policy continues, within the next week, I predict that Texas consumers will be paying two dollars for a lime and five dollars for an avocado," reads his letter. "The following week, Texas produce shelves will be empty—for the third time because of policies implemented by your administration. Your inspection protocol is not stopping illegal immigration. It is stopping food from getting to grocery store shelves and, in many cases, causing food to rot in trucks—many of which are owned by Texas and other American companies. It is simply political theater. The people of Texas deserve better!"
The good news is that Abbott has relented some on the policy. In exchange for promises from the Mexican government that they would bolster security, he announced the easing of inspections in Laredo Wednesday. The governor attempted to put a positive spin on the debacle, saying that a quarter of trucks had been found to have major mechanical faults and that catching them had likely saved many Texas lives.
Even with the abandonment of this policy, Abbott continues to use anti-immigrations sentiment to bolster his appearance as a border security politician. His other stunts include promising to build more border fencing as well as ship captured border crossers to Washington D.C. These activities have severely drained Texas' coffers as Abbott pays for them using money earmarked for fighting COVID. Economically, Abbott's border policies have been very bad for the state's bottom line.