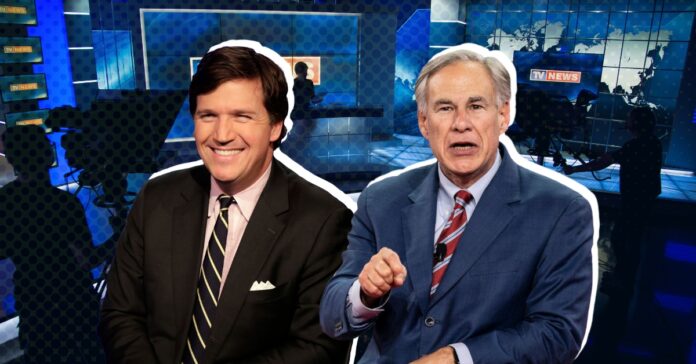 Fox News Host Tucker Carlson took to the air this week to blame Gov. Greg Abbott for the entire border crisis, insisting he could stop it — if he just had the will.
He went on to call the massing migrants an "invasion" as they await the conclusion of the legal battles regarding Title 42 to play out. And Carlson blamed Abbott for migrants spreading out across the country while they await the conclusion of the investigation of their asylum claims.
His take on the topic he expressed on his show, "Tucker Carlson Tonight," might play well with his MAGA base audience. But as most citizens know, not only is the crisis humanitarian in nature, not to mention historic in size and scope, it is far from being any one person's fault.
Nor is it an invasion — but rather a giant thumb in the eye of U.S. foreign policy efforts going back decades — and it more closely resembles Ukrainians fleeing Russian attacks to get to Poland than it does an invasion, regardless of how you define the term.
Abbott lacks the authority to do much more than he's already done, despite the taxpayer dollars Abbott has already spent on Operation Lone Star. And given that immigration is in federal jurisdiction, he cannot simply decide unilaterally to shut down an international border.
The vast majority of migrants are fleeing sociopolitical instability and unspeakable violence, and for many, it's a run for their lives. These are largely asylum seekers fleeing Venezuela and Haiti, both countries that have recently been destabilized and have descended into abject poverty and chaos.
But Carlson has been famously grousing about Abbott's refusal to appear on his show for some time now. He finally became so angry that he announced he would invite Abbott's primary challenger to come on the show. "We plan to invite his primary opponents onto this show to describe what they would do if they ran Texas," Carlson said on air.
"We've asked Texas Gov. Greg Abbott many times to come on this show to explain why he hasn't called the National Guard to seal the Texas border to protect the rest of us from this invasion," Carlson said. "Greg Abbott has refused to come on repeatedly."
But Abbott is no stranger to appearing on Fox News and was a guest on — Sean Hannity's show — which aired immediately after Carlson's — in 2021.
"We'd like to give Gov. Greg Abbott one more chance. Sincerely, tell us how you plan to save the rest of us from what's happening in your state," he whined. But given the urgency of the crisis, Abbott has more important things to worry about than the hand-wringing of Fox News hosts like Carlson.