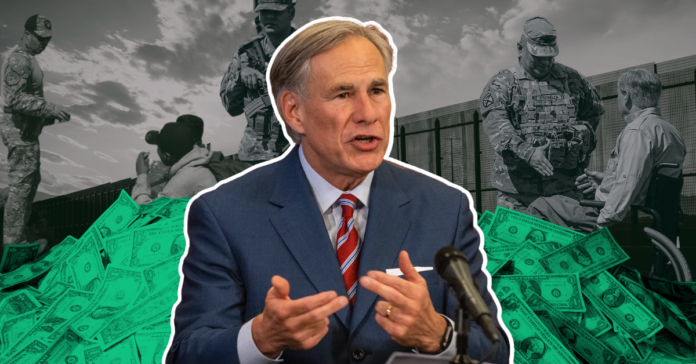 In the lead-up to the November midterms, Gov. Greg Abbott has often bragged about his so-called border crackdown to stop drug and human smuggling, as well as other illegal immigration.
Despite all evidence to the contrary, he has continually cast Texas authorities as "the first line of defense" against drug cartels and criminal organizations as he seeks to improve his popularity during this election year.
But politics, it is said, makes strange bedfellows, and perhaps it makes strange relationships with reality as well.
The reality of Operation Lone Star — which has cost taxpayers $4 billion so far — has resulted in a severe case backlog that prompted one judge, a Republican, to agree to let numerous felony defendants out of jail on cashless or low-cash bonds in recent weeks.
That is probably not what Abbott's campaign was hoping for in his effort to "stop this revolving door and deter others considering entering illegally."
Operation Lone Star has also caused state leaders to borrow hundreds of millions from the state's already haggard prison system in the name of border security.
More than 21,000 arrests have been made in the operation, as authorities have shifted their focus to stopping the illegal transporting of migrants, and charging U.S. citizens with human smuggling, sweeping up hundreds of low-income residents into the system.
"The prosecutor can't prosecute, the defense attorney can't defend, and these people are stuck in prison," said Mary Pietrazek in an interview with the Houston Chronicle.
She has represented more than 70 people arrested in human smuggling cases through the border initiative, and the state government is paying her and hundreds of other lawyers across the state to represent those arrested because they can't afford attorneys.
Despite the operation and its reputation, the number of migrants that officials are encountering at the Texas-Mexico border is higher this year than it was before Operation Lone Star began in March of 2021, according to data reported by U.S. Customs and Border Protection.
Racial profiling has been rampant in border counties, and Latino citizen complaints about the continuing traffic stops have grown louder during the operation. The Dallas Morning News found that more than 600 hundred people residing in Starr and Hidalgo counties were stopped 10 or more times each, and half that number have been stopped a minimum of 20 times. One resident was reportedly pulled over 52 times in that same period.
The state has spent an inordinate amount of money on this operation and despite law enforcement and national guard resources efforts, they have yielded little in terms of real impact.
This summer, at least 30 people were killed in state police car chases connected to Operation Lone Star since it began last March, according to a new complaint by civil rights groups. The death tally, which includes five people not involved in the chases, was compiled from news reports and sent Thursday to the U.S. Department of Justice in an official complaint of alleged civil rights violations.
And political stunts like trafficking migrants on the taxpayer tab have done nothing but backfire.
Recently federal authorities said the number of migrant encounters at the entire southwest border exceeded 2 million in August.
But when asked by the Texas Tribune, Renae Eze, Abbott's spokesperson, did not address the increase in migrant encounters at the Texas border despite his Operation Lone Star. However, in a statement Abbott's spokesperson Eze said "As border communities have been overrun and overwhelmed by this ongoing crisis, Texas has sent significant resources to help our local partners, including financial and law enforcement support and busing migrants to sanctuary cities Washington, D.C., New York City, and Chicago to provide relief."
So why have migrant encounters reported by federal authorities at the state's border remained high 18 months into the operation, and why is the effort failing?
Perhaps Democratic Texas Congresswoman Silvia Garcia's plan to focus on more efficiently processing immigration and asylum cases would work better than jailing low-income citizens.