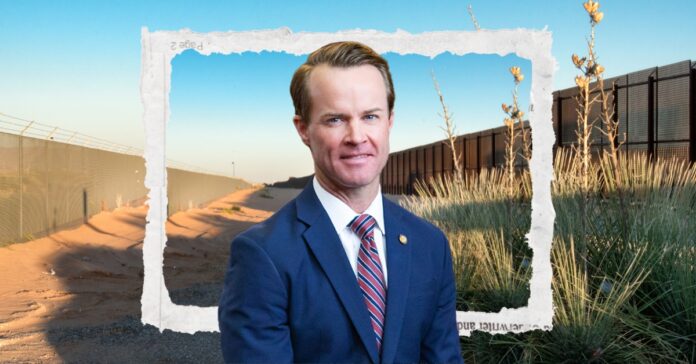 Texas House Speaker Dade Phelan recently showed support for Governor Greg Abbott's Operation Lone Star initiative, hinting at the possibility of a special session to expand the state's border security measures.
During a public event in Beaumont, Speaker Phelan emphasized the urgency of addressing the situation at the Southern border.

Notably, he mentioned House Bill 7, a contentious proposal that included provisions for establishing a Texas border protection unit. During the regular legislative session, HB 7, failed to pass due to disagreements between the two chambers.

"There is nothing being done by the Biden administration right now; we cannot turn a blind eye on our Southern border," Phelan said in Beaumont on Thursday. "We may be back in a special session this fall, and we can revisit that very soon."

https://twitter.com/madkisonews/status/1684637422573813760?t=7cl14eTp9rUdQTI9nZAHyQ&s=31

Abbott's border initiative currently faces a federal lawsuit, involving the construction of a new floating barrier of buoys in the Rio Grande River, aimed at deterring migrants from crossing the border. This legal challenge has sparked criticism from various quarters, including the Department of Justice and some Republican figures.
In a news conference in Washington, several Texas congressmen, including Congressman Chip Roy, voiced their support for Gov. Abbott's border security efforts while criticizing the Biden administration's approach.

Congressman Roy went as far as pledging to withhold funding for the Department of Homeland Security, expressing his full backing for Texas' defense measures.

The U.S. government has sought a preliminary injunction to halt the construction of the floating barrier, and it has also requested the removal of existing buoys near Eagle Pass within 10 days.
On the other side of the aisle, Texas Democrats have expressed support for the Department of Justice's actions and called for a legislative investigation into Operation Lone Star following whistleblower allegations of misconduct by the Department of Public Safety at the border.

Is Operation Lone Star Effective?

There is no evidence to suggest Gov. Abbott's efforts have done anything to curb illegal immigration. A blockbuster report by the Wall Street Journal recently laid out exactly how ineffectual Abbott's actions have been.
According to the U.S. Customs and Border Protection, illegal crossings rose faster in places that Abbott heavily targeted with Operation Lone Star. In Del Rio, a site of heavy action, crossings rose 64 percent. In the Rio Grande Valley, which did not participate in Lone Star's trespassing and arrest protocol, crossings fell by 35 percent.
There have been a lot of arrests, however, the numbers do not tell the whole story. Many of the people arrested have been subsequently released when judges found the actions of the officers discriminatory or illegal. In addition, several arrests miles away from the border like Midland have also counted as part of the "overall" anti-immigrant effort.

Even with the numbers fudging, arrests are only up around 1 percent, or 11,000 out of the typical 850,000 arrests.

Meanwhile, the cost to have achieved this measly goal so far is closing in on $10 billion.
Since its launch, Operation Lone Star has also increased the number of Texas National Guard dissertations and suicides, as well as several officers being accused of entrapment and improper behavior.