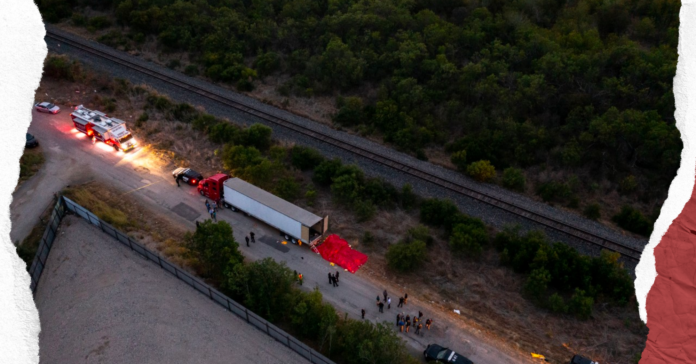 At least 50 people died outside of San Antonio in a human smuggling operation in late June after the air conditioning failed in a tractor trailer hauling migrants from south of the border. It's the latest high-profile incident in a summer of increased human smuggling that rages while border policy is deadlocked.
Hauling migrants using fraudulent truck shipments has exploded in the last several years, partially because of former President Trump's border policies. When Trump switched the focus of border security activities to massive roundups and deportations, it left an already underpowered investigative force even weaker. In the first full year of the Trump presidency, investigations of human smuggling cases dropped by nearly 60 percent.
This problem was exacerbated by the Title 42 policy Trump put in place when the COVID-19 pandemic hit. Under its emergency powers, border officials expel migrants even if they are seeking legitimate asylum. President Joe Biden has been attempting to end the policy, but it has been tied up in federal court. In the meantime, asylum seekers desperately seek the services of human smuggling groups.
This has led to truckers agreeing to transport migrants in trailers. The work can pay tens of thousands of dollars, but the human cost is becoming steep. Migrants are often packed into trailers with no water, sometimes more than a hundred to one space. The 53 people who succumbed outside of San Antonio were not the first to die of heat-related causes.
The Biden Administration has launched several initiatives to curtail the dangerous smuggling operations. The president said in a statement shortly after the migrant bodies were discovered that a new anti-human smuggling program started in Los Angeles earlier in the year had already made 2,400 arrests.
"Exploiting vulnerable individuals for profit is shameful, as is political grandstanding around tragedy, and my Administration will continue to do everything possible to stop human smugglers and traffickers from taking advantage of people who are seeking to enter the United States between ports of entry," his statement said.
However, things at the border are likely to continue in the same deadly stalemate. Republicans like Governor Greg Abbott, who is predicted to run for president in 2024, have made Trumpian border policies at matter of ideological showmanship. Under Operation Lone Star, the governor has concentrated mostly on roundups and deportations, doing little to aid the investigation of human smuggling groups.
Nor is relief likely to come from the federal government soon. Biden's immigration reform policies in his proposed Build Back Better bill faced vicious opposition from Republicans and a lack of support from conservative Democrats. The proposed path to citizenship was stripped out of the bill's text, which ultimately failed to pass regardless.
Even appointing a new head of the Immigration and Customs Enforcement agency has stalled. Biden's pick, Ed Gonzales, dropped out from consideration after Republicans held up his confirmation for a year.
Biden campaigned hard on reforming immigration policy, but so far his hands have largely been tied by the actions of his predecessor and Republican hardliners. Meanwhile, the human smuggling operations increase despite the very real dangers.