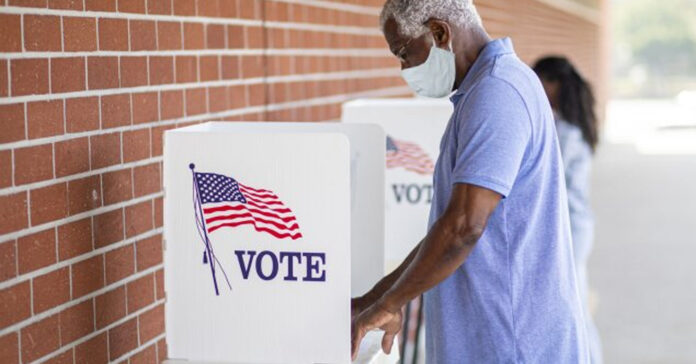 Texas Republicans pushed through one of the greatest rollbacks in voting rights and access last year, but apparently that was only the beginning. The next target: senior citizens.
At the recent GOP convention, Republicans doubled down on unfounded accusations of massive voter fraud in the 2020 election. Despite the fact that no evidence has ever been found of widespread or systemic voter fraud in any state, asserting that former President Donald Trump was denied a second term through cheating has become a convenient excuse to make voting harder in states that are increasingly Democratic-leaning. This despite evidence from the January 6 Committee showing Trump himself knew the accusations were false.
Under the banner of the "Big Lie," Texas Republicans passed a bill nominally centered on election security, but which mostly limited mail-in ballots, the number of polling places in cities, and removed restrictions on poll watchers. It also prohibited election officials from promoting mail-in voting.
The new plan unveiled at the convention is to remove the ability of senior citizens to use mail-in ballots. Under current Texas law, the military, people who will be out of the country, the disabled, and those over 65 are allowed to use mail-in ballots, though the state has repeatedly failed to define what disability counts for the purpose of mail-in ballots, leading to fear from disabled voters they would be prosecuted. The proposed new legislation would remove senior citizens from the list.
"Texas Republicans rightly have no faith in the 2020 election results and we don't care how many times the elites tell us we have to," said Republican Party of Texas Chairman Matt Rinaldi, to the Houston Chronicle.
In the absence of any evidence of voter fraud, the move to further restrict mail-in voting smacks of a naked political power grab. Texas Attorney General Ken Paxton has even admitted that if mail-in voting was more widespread in Texas, President Joe Biden would have carried the state. Under the new law, Texas has already been throwing out huge numbers of mail-in ballots based on errors and failure to meet the new confusing ID requirements.
During the 2020 presidential election. Trump repeatedly told supporters that mail-in voting was rife with fraud and malfeasance. When Biden won the majority of mail-in votes, most of which were counted long after Election Day, it was seen as proof of a conspiracy. Filmmaker Dinesh D'souza, himself convicted of election crimes and later pardoned by Trump, fueled the conspiracy theory more with his movie 2,000 Mules, which was screened at the Texas GOP convention. The film failed to prove any voter fraud, relying instead on sinister music and footage of people dropping off ballots at night, which is not illegal or even particularly suspicious.
Mail-in voting was once popular with Republicans in Texas. That changed in 2020 when more people sought to avoid polling places thanks to the COVID-19 pandemic, including Democrats who tended to take the virus more seriously. When Trump made attacking mail-in voting a political litmus test, it sparked a partisan divide over the practice. That mail-in voting is favored by some Democratic demographics such as the disabled and those who work low-paying jobs that may not offer time off to vote in person, fueled the fire more.
It's unclear whether removing the ability of seniors to vote by mail will backfire on Republicans, but regardless, it is one more avenue of voting they are closing down.