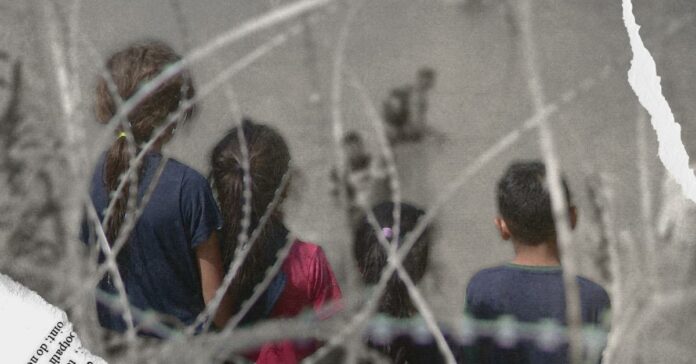 A poll conducted by America's Voice, a national advocacy group promoting immigration reform, has revealed that disinformation surrounding "open border" policies is playing a significant role in driving a substantial wave of Central American migrants toward the U.S.-Mexico border.
According to the poll, which was obtained by The Dallas Morning News, a large number of Central American residents are being motivated to make the treacherous journey northward based on false narratives.
Approximately 80% of Central Americans surveyed in the poll reported having heard, read, or seen information related to the situation at the U.S.-Mexico border. Around two-thirds of respondents stated that they were familiar with U.S. asylum policies.
Shockingly, one in four Central American participants in the survey claimed to have heard that the "border is open," while nearly one in five believed that the term "open borders" implied that most migrants could apply for asylum upon reaching the U.S.
However, these beliefs do not align with the current U.S. immigration regulations, which established a mobile app called CBP One as the primary legal pathway for border migrants seeking asylum. For those who cross the border illegally, obtaining asylum is significantly more challenging.
Homeland Security Secretary Alejandro Mayorkas emphasized this point, stating, "Our borders are not open. People who cross our border unlawfully and without a legal basis to remain will be promptly processed and removed."
Homeland Security reported an increase in the number of people expelled from the U.S., with 253,000 individuals removed since May 12, compared to 180,000 during the same period in 2019.
The disinformation, as revealed by the poll, is primarily attributed to politicians and conservative media outlets, according to BSP Research, which conducted the survey of 600 randomly selected Central Americans in Honduras, Guatemala, Nicaragua, and El Salvador from July 21 to July 31. The margin of error for the poll is plus or minus 4%. The survey focused primarily on individuals aged 16 to 39, the primary demographic of migrants.
Media Matters for America, a left-leaning media watchdog group that conducted research for America's Voice, tracked the use of the term "open borders" in a video database. They found that Fox News mentioned "open borders" 3,842 times from November 1, 2020, through August 22, 2023. Newsmax mentioned it 3,257 times during the same period.
Vanessa Cárdenas, the executive director of America's Voice, explained that human smugglers amplify the "open border" message to exploit vulnerable individuals already facing corrupt governments, political instability, economic hardship, and the effects of a pandemic and climate change.
Cárdenas stated, "These words by politicians and the message of open borders are being consumed throughout the region, and used by smugglers who are trying to prey on people's desperation. Politicians need to realize that words matter, and by spreading disinformation for political gain, they're actually making the problem worse."
However, Mark Krikorian, the executive director at the Center for Immigration Studies, criticized the poll, claiming it provides a one-sided perspective. The Center, based in Washington, D.C., advocates for stricter immigration controls and is critical of policies from President Joe Biden's administration.
Krikorian argued that personal stories, such as those of neighbors who have successfully crossed the border, are more persuasive than statements made by politicians on news outlets.
A study by the Center for Immigration Studies in 2023 reported that during the Biden administration, over 2 million migrants encountered by Customs and Border Protection at the Southwest border were released into the U.S. with notice-to-appear court dates.
The Biden administration recently announced plans to allow approximately 472,000 Venezuelans already in the U.S. to live and work legally for 18 months, a move criticized by some as potentially encouraging further border crossings.
The issue of migration is complex, as Andrew Selee, president of the Migration Policy Institute, a nonpartisan research group, explained. People receive information about the border from various sources, including conservative politicians, media outlets, and smugglers. However, family and friends who have already made the journey to the border often play a crucial role in shaping individuals' decisions.
The poll's release coincides with the latest surge in migrants arriving at the southern border, causing strain on communities on both sides. In El Paso, for instance, Mayor Oscar Leeser stated that over 2,000 people are arriving daily, surpassing shelter capacity and stretching resources thin.
Arrests by the U.S. Border Patrol increased by 37% in August, with 181,509 individuals detained at the Mexican border. While this figure is similar to August 2022, it remains below the peak of over 220,000 arrests in December, according to Customs and Border Protection.
Matt A. Barreto, president of BSP Research, stated that this survey is the first to provide statistical evidence showing that exposure to misinformation can lead migrants to decide to undertake the journey northward.
Barreto emphasized that when Central Americans hear that the "border is open" or that "Biden has an open border policy," they become more interested in making the trip north. He noted two key findings from the survey: widespread exposure to border-related misinformation in Central America and an increased interest in migration when such misinformation is encountered.
Last week, Landon Hutchens, a spokesperson for Customs and Border Protection, called on smugglers to cease what he referred to as a "misinformation campaign" spread through social media, targeting vulnerable migrants. He stated that CBP remains vigilant and expects fluctuations in border activity due to continued use of misinformation by smugglers.