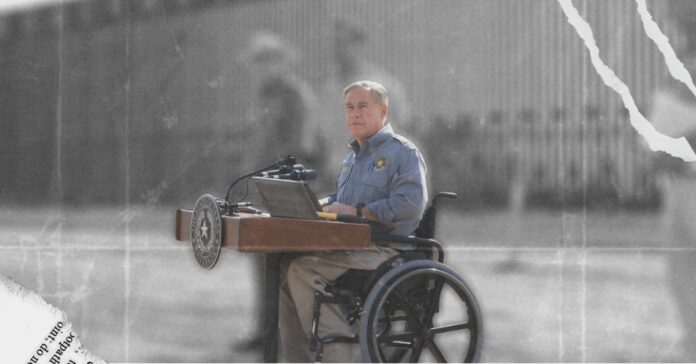 "There is a war going on on the border, and that war is between Texas and the United States of America," Gov. Greg Abbott told Fox News on Wednesday after announcing that the upcoming special legislative session would include proposals related to border security.

This development comes amidst mountain pressure from lawmakers across the political spectrum after a recent surge in migrants crossing the U.S.-Mexico border in Eagle Pass led the city's mayor to call for a state of emergency.
Abbott cited unsubstantiated reports from conservative media outlets regarding an alleged unauthorized immigrant housing development north of Houston as a reason for this action, as reported by The Dallas Morning News.
During his appearance on Fox News, Abbott stated that the 30-day special session will investigate these allegations, emphasizing that he takes the reports seriously, although he admitted uncertainty about their veracity.

Abbott did not provide specific details about the proposals he intends to put forth regarding the alleged development. State agencies, including the Texas Department of Public Safety and the Texas Commission on Environmental Quality, have been deployed to investigate the matter.
Abbott has made immigration enforcement a top priority, notably through Operation Lone Star, a multi-billion-dollar border security initiative involving DPS troopers and Texas National Guard members, ongoing for over two years.

A mission that according to Jef Rouner, an award-winning freelance journalist, "has been plagued with poor logistical support, funding issues, legal problems, lack of focus, and low troop morale." It has also cost the state billions and done little to deter illegal immigration.

Earlier this summer, Texas installed buoys in the Rio Grande in Eagle Pass to deter migrants from entering the state illegally, a move that led to a Justice Department lawsuit against Abbott, alleging violations of a 19th-century law prohibiting unauthorized construction along navigable waterways.

The barrier, which are 4-foot spheres linked by heavy cables with sharp-toothed disks and a submerged steel mesh to deter divers, caused outrage and has been called "inhumane" by diplomats and advocates. 
The upcoming special session, scheduled to commence in about two weeks in October, was originally intended to address voucher-like legislation that would allocate public funds to help families afford private school tuition. However, the recent surge in migrants along the Rio Grande prompted calls from both Republican and Democratic legislators to include border security topics in the session.
According to The Dallas Morning News, the Texas Republican Party unanimously passed a resolution urging Abbott to include the development issue in the special session agenda. Lieutenant Governor Dan Patrick also expressed his intent to request that Abbott address the matter, condemning the presence of "this massive complex of people here illegally creating their own city just north of Houston" on The Michael Berry show in September.