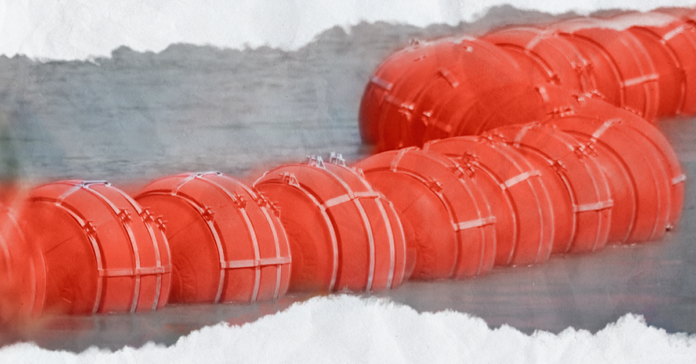 "State troopers are being told to push small children and nursing babies back into Rio Grande," according to emails from a Department of Public Safety trooper, as first reported by Hearst Newspapers.

A trooper, who participated in Gov. Greg Abbott's border security operation, Operation Lone Star, recently unveiled disturbing revelations regarding the "inhumane" treatment of migrants at the Texas-Mexico border.

In the email, sent July 3, Trooper Nicholas Wingate, who also served as a medic for the Texas Department of Public Safety, detailed instances where troopers were instructed to push migrants back into the Rio Grande, including a four-year-old girl passed out from heat exhaustion, and witnessed distressing incidents, like a teenager who broke his leg trying to navigate the water around the wire and a pregnant woman caught in razor wire whilst having a miscarriage.

In his email, Wingate expressed concerns about migrants being injured due to razor wire deployed along the border. He emphasized the need to treat migrants as human beings deserving of dignity and respect.

"I truly believe in the mission of Operation Lone Star," Wingate wrote. "I believe we have stepped over a line into the in humane (sic). We need to recognize that these are people who are made in the image of God and need to be treated as such."

Travis Considine, a spokesman for DPS, said the DPS Office of Inspector General opened an investigation into Wingate's email to see if any department policies were violated.

Concerns over the use of razor wire were further validated by DPS Director Steven McCraw, who acknowledged in an email that the wire had caused injuries to several migrants, including seven incidents reported by Border Patrol where migrants needed "elevated medical attention" from July 4 to July 13 – in addition to the incidents mentioned in Wingate's email.

Meanwhile, Gov. Abbott has focused on stepping up his efforts to physically bar migrants from entering the country. His actions have led to mounting tensions between state and federal officials and has drawn increased scrutiny from humanitarian groups concerned about the safety of asylum seekers.

"At the end of the day, Texans need to wake up because these stunts of Greg Abbott are not border patrol. They are not immigration policy," said State Sen. Roland Gutierrez.

Recently, Gov. Abbott added more controversial measures to the program, including his deployment of floating buoys along the Rio Grande in an effort to deter migrants.

During a recent interview with Fox News' Maria Bartiromo, Gov. Abbott proudly discussed the enhanced border security measures he implemented. Highlighting the effectiveness of these measures, he stated, "We have razor wire prohibiting people from entering Texas in the first place, and right behind that razor wire are national guard soldiers."
"Because Texas has done such a prolific job of stopping people from coming into our state, you are seeing a massive increase in the number of people crossing into New Mexico, Arizona, and California."

Where Gov. Abbott is getting his information remains to be seen, because ever since the Biden administration lifted the public health rule, known as Title 42, the number of migrants crossing into the country has not only sharply declined, but has also remained relatively low.
Since May 12, the average number of daily illegal crossings has been around 3,360, according to Department of Homeland Security data. In March 2022, that average was about 7,100.

Since its launch in March 2021, "Operation Lone Star, a.k.a Abbott's baby, which involves the collaboration of Texas National Guard members and DPS officers, has incurred a cost of $4.5 billion for Texans and, in the recent legislative session, received an additional allocation of $5.3 billion.