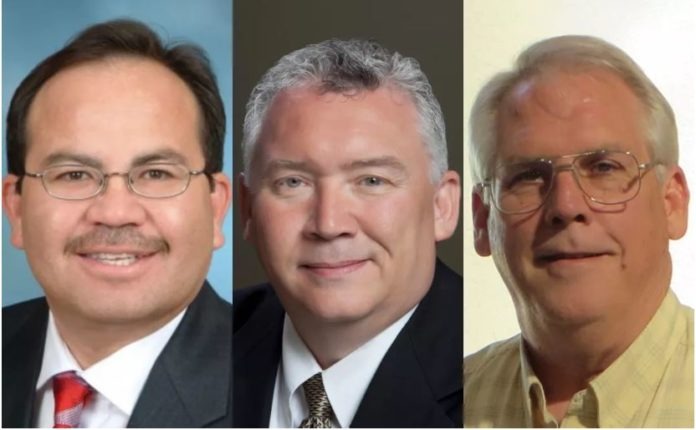 (From left to right: Art Fierro, Dr. Michiel "Mike" Noe, Hans Sassenfeld)
Governor Greg Abbott called a January 29th special election, for which early voting is underway.
Reform Austin previously reported on the three candidates who filed to run for State House District 79: Art Fierro, Chairman of the El Paso Community College Board of Trustees, Dr. Michiel Noe, an outgoing El Paso City Council Member, and Hans Sassenfeld, an activist and Secretary of the El Paso County Republican Party. With early vote ending Friday, January 25th, the Texas Ethics Commission recently released the three candidates' 8-day campaign finance filings, the last required report before the January 29th election.
As of the latest filing, Democrat candidate Art Fierro raised $47,693, and spent $31,571 – maintaining $10,500 cash on hand. The other Democratic Candidate Michiel "Mike" Noe, has $49,200 in receipts, $40,323 in expenditures, and $11,138 cash on hand. Republican Hans Sassenfeld raised $2,563, spent $652, and has $1,552 cash on hand for the final week of the campaign.
House District 79 is located in Northeast El Paso, and encompasses 20% of El Paso County, including the community of Fort Bliss CDP.
The district is 82.4 percent Hispanic, with Black and Anglo populations making up 4.2 percent and 12.6 percent, respectively.
Early voting for the Special Election ends Friday, January 25th. As of Wednesday, January 23rd, just 1,983 of the district's 88,034 registered voters have cast a ballot in the special election – a turnout of 2.2 percent. Election Day is Tuesday, January 29th.