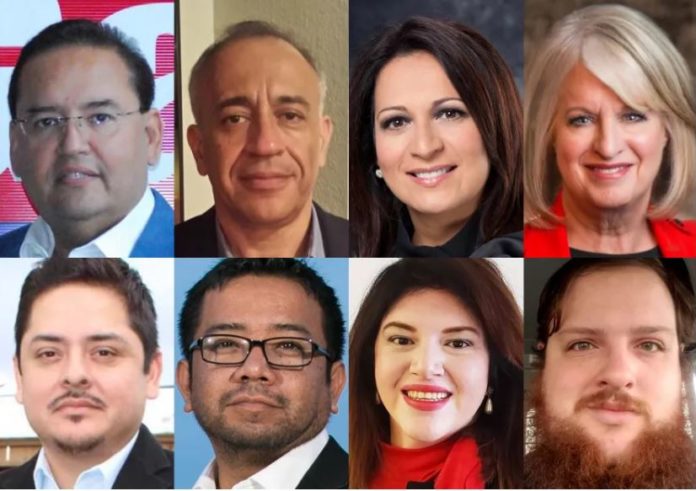 (From left to right, top to bottom: Elias De La Garza, Oscar Del Toro, Christina Morales, Melissa Noriega, Alfred Moreno, Ruben Gonsalez, Martha Fierro, Clayton Hunt)
Eight candidates are on the ballot in the special election for State House District 145, which was called by Governor Greg Abbott to fill the vacancy created when State Representative Carol Alvarado (D – Houston) won a December 2018 special election for Texas Senate District 6. Alvarado succeeded Sylvia Garcia, who resigned after winning election to Congress.
Reform Austin has previously reported on the candidates running to succeed Alvarado, including six Democrats, one Libertarian, and one Republican.The Democrats include former Houston City Council Member and former House District 145 Representative Melissa Noriega, small business owner Christina Morales, Oscar Del Toro, Ruben Gonsalez, Alfred Moreno, and Elias De La Garza. Martha Fierro, candidate in the recent Senate District 6 special election, is the lone Republican on the ballot, while Clayton Hunt is running as a Libertarian. With Election Day less than a week away, the Texas Ethics Commission recently released the candidates' 8-day campaign finance filings, their last required report before the January 29th election.
As of the latest filing, Democrat Christina Morales has emerged as the leading fundraiser, raising $36,440, spending $30,921, and maintaining $23,781 cash on hand. Melissa Noriega follows closely behind with $19,668 in receipts, $30,127 in expenditures, and has $24,975 cash on hand, with $31,750 in loans. Elias De La Garza has $13,792 in receipts, $13,199 in expenditures, $208 cash on hand, but has $15,000 worth of loans. Ruben Moreno raised $1,060, spent $891, and has no cash on hand. Oscar Del Toro has also raised and spent less than $1,000 and reported $181 cash on hand. Ruben Gonsalez's filing shows $0 for his receipts, expenditures, and cash on hand.
Libertarian Candidate Clayton Hunt had $520 in receipts, $1,282 in expenditures, and $72 cash on hand. Finally, Republican Martha Fierro has raised $4,850, spent $1,282, and has $4,195 cash on hand for the final week of the campaign.
House District 145 is located in Eastern Harris County, and includes portions of southeast Houston, the Houston Heights, South Houston, and Pasadena.
The district is 74.4 percent Hispanic, with Black and Anglo populations making up 7.1 percent and 16 percent respectively.
Early voting for the Special Election ends Friday, January 25th. Through Wednesday, January 23rd, 865 of District 145's 72,927 registered voters had cast a ballot in the special election – just 1.2 percent turnout. Election Day is Tuesday, January 29th. If no candidate reaches a 50 percent majority then, a runoff election will be held several weeks later.