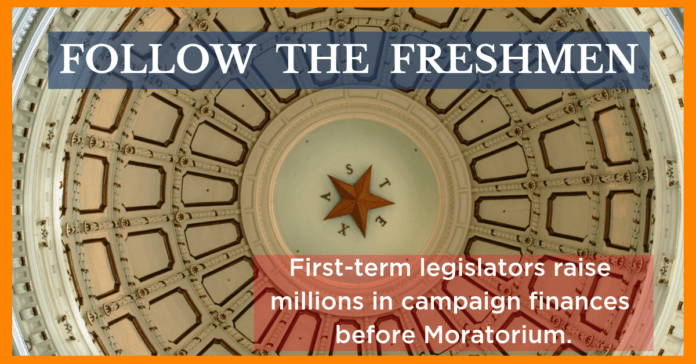 Second in an occasional series
Reform Austin has reported extensively on the nexus of special interest campaign money and its impact on state legislation. Millions of dollars in special interest cash pour into campaign coffers; and in return, the lobbyists and political action committees (PACs) who contribute expect legislators to vote favorably on bills and amendments.
Texas is one of 15 states to prohibit political fundraising during the legislative session. Statewide office holders and legislators are able to accept political donations for campaign funds until the Texas Ethics Commissions' "Moratorium on Contributions" puts an end to all fundraising for "legislators, certain statewide officers, and certain political committees".  For the 86th Legislature, the moratorium runs from December 8th of last year through June 17, 2019.
For first-term legislators, many of whom depleted their campaign accounts during the general election, the period between Election Day and the start of the moratorium becomes an important window to raise as much as they can in political contributions before the new Legislative session.
According to an analysis of Texas Ethics Commission records, between Election Day and the beginning of the Moratorium on Contributions, over $3 million dollars was raised by the incoming class of legislators. The 28 new members of the Texas House of Representatives collectively raised over $1.2 million dollars in the 32-day period, while five new members of the Texas Senate collectively raised $2.1 million.
Among the freshmen in the Texas House, John Turner (D-Dallas) emerged as the top fundraiser before the beginning of the Moratorium, collecting $186,550 in contributions. The Dallas area attorney raised over $100,000 more than any of his fellow freshmen legislators. Michelle Beckley (D-Carrollton), Keith Bell (R- Forney), and Vikki Goodwin (D-Austin) were runners up behind Turner, each raising more than $80,000. According to their latest filings, Michelle Beckley raised $83,913, Keith Bell collected $82,555 and Vikki Goodwin raised $82,359.
Among freshmen members in the Texas Senate, Pat Fallon (R-Prosper) leads with $245,157 raised and $576,420 cash on hand, before the beginning of the Moratorium. Beverly Powell (D-Burleson) follows closely in contributions raised with $237,194, and has $186,194 cash on hand, while Nathan Johnson (D-Dallas) raised $186,032 and has $150,579 cash on hand. Freshman Senator Pete Flores (R-Pleasanton) raised $184,474 and currently has $240,058 cash on hand to begin the session. Another freshman senator, Carol Alvarado (D-Houston) won a special election on December 11th, so her fundraising was more electoral in nature, and not subject to the same Moratorium.
Aside from the volume of cash, taxpayers should take interest in how the incoming legislators vote once legislation important to these large interests comes before them in committee or on the floor.  Will they vote in the interest of taxpayers, or for their contributors?
The three biggest contributors to incoming House legislators were the Texas Trial Lawyers, which gave $54,000, and Texans for Insurance PAC, which gave $49,707, and Oncor PAC, which gave $42,000. Altogether special interest groups contributed $1,754,072 to all new incoming House members. For the Senate, the top three biggest contributors were Texans for Insurance PAC, Texas Association of Realtors (TREPAC), and Texans for Lawsuit Reform. Altogether the combined total of contribution from entities was $870,076.
These massive investments from special interest PACs aren't being made for fun, but with the expectation incoming legislators will behave similar to long-time incumbents when the time comes for voting – against taxpayers and consumers and for insurance companies, real estate, and big construction interests.
Reform Austin will continue to track all first-term incumbents, and report on their voting records throughout session to see who they put first – their constituents or their contributors.