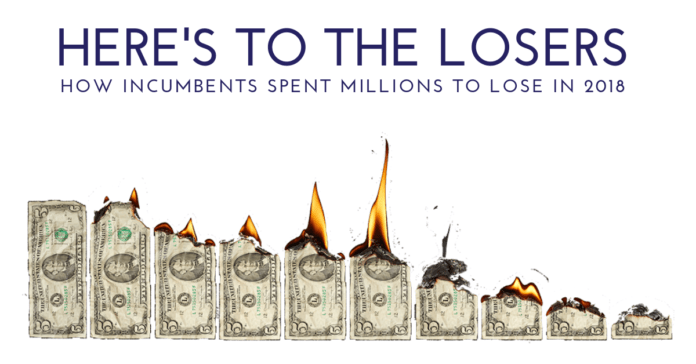 With the final campaign finance reports for the 2018 election cycle turned in three weeks ago, Texas residents can now have a better idea of who contributed to whom and how money was spent by candidates and PACs. Reform Austin examined the reports filed with Texas Ethics Commission to identify the finances of incumbent legislators who lost their seats in the past election cycle.
19 incumbents lost in the past election cycle – 16 in the House and three in the Senate – with nine through primary election and ten in the general election. Collectively, the 16 incumbents in the House who lost spent a whopping $8,005,877 during the election cycle. The three incumbent Senators who lost in the last election cycle collectively spent over $6.8 million. Senate races are generally more expensive than those of the House because of the size of the districts are much larger.
Primary/Runoff Losers
For the 16 House seats, eight incumbents lost in the primary and eight lost in the general election. Of the eight that lost in the primary, three were Republicans and five were Democrats. All five Democrats that beat incumbents in the primary went on to win the general election, so there was no change in party control on the Democratic side; but only two out of the three Republicans who defeated incumbents in the primary maintained the party's hold on those seats, with Lisa Luby Ryan losing in the general election to Democrat John Turner.
Scott Cosper (R-Killeen) is one incumbent who lost in a primary runoff to challenger Brad Buckley, who went on to win the general. Cosper spent $419,605 directly with an outside spending of $192,706. During the primary, Buckley spent $167,590 directly and had $4,505 in outside spending.
Roberto Alonzo (D-Dallas) is another incumbent who lost in a primary to challenger Jessica Gonzalez, who also went on to win the general. Alonzo spent $216,200 directly with no outside spending. During the primary, Gonzalez spent $53,666 directly with outside spending of $1,435.


Jason Villalba (R-Dallas) lost to Lisa Luby Ryan. He spent $413,566 directly with $153,949 in outside spending. Ryan's direct spending during the primary was $394,450 and outside spending was $3,852.
The House Democrat incumbent who spent the most to lose in the primary was Rene Oliveira (D-Brownsville) with $615,005, who lost in a runoff to Alex Dominguez, who spent $150,333.
General Election Losers
All eight House incumbents who lost in the general election were Republicans.
Leading the House in expenditures for the 2017-2018 election cycle in former four-term State Rep. Paul Workman (R-Austin) with $1,027,902. Additionally, Workman received $222,412 in in-kind contributions, from TV and digital advertising to mailers and event sponsorships, most of which came from party committees. At a distant second is former twelve-term State Rep. Gary Elkins (R-Houston) with $890,756. Following him is former two-term State Rep. Matt Rinaldi (R-Dallas) with $825,810 in direct expenditures and $176,877 in in-kind contributions, mostly for political advertising.
For the three Senate seats, two incumbents lost in the general – Don Huffines (R-Dallas) and Konni Burton (R-Colleyville) – and the third, Craig Estes (R-Wichita Falls), was unseated in the primary by Pat Fallon, who went on to win general election.
Leading the pack in expenditures for the 2018 election cycle in the Senate is former freshman Senator Don Huffines with $3,673,240. Konni Burton spent $1,665,410, while Craig Estes spent $1,467,426.
An honorable mention goes to his twin brother Phillip Huffines, who, while not an incumbent, spent $8,369,610 to lose the Senate District 8 primary, which made it the most expensive legislative race in Texas this past election cycle.
Collectively, incumbents in the Texas Legislature who lost in the last cycle spent roughly $14.8 million, with millions of dollars coming from special interest sources. These incumbents lost to challengers who they generally outspent, proving money isn't always everything, especially when challengers run against status quo politicians (and their fundraising).
Taxpayers need to now hold their new representatives and senators accountable, and Reform Austin will continue to report on incumbent and candidate fundraising and spending throughout the 2019-2020 election cycle.
House Districts
| House Districts | Incumbents | Challengers | Incumbent Spending | Challenger Spending |
| --- | --- | --- | --- | --- |
| 23 | Wayne Faircloth (R) | Mayes Middleton (R) | $640,498.84 | $1,694,819.10 |
| 37 | Rene Oliveira (D) | Alex Dominguez (D) | $615,004.79 | $150,333.00 |
| 46 | Dawnna Dukes (D) | Sheryl Cole (D) | $136,292.06 | $342,944.54 |
| 47 | Paul Workman (R) | Vikki Goodwin (D) | $1,027,901.76 | $615,854.32 |
| 54 | Scott Cosper (R) | Brad Buckley (R) | $419,605.06 | $172,095.00 |
| 65 | Ron Simmons (R) | Michelle Beckley (D) | $726,207.38 | $92,019.84 |
| 102 | Linda Koop (R) | Ana Maria Ramos (D) | $746,367.14 | $168,165.18 |
| 104 | Roberto Alonzo (D) | Jessica Gonzalez (D) | $216,199.57 | $55,101.00 |
| 105 | Rodney Anderson (R) | Terry Meza (D) | $354,308.05 | $127,919.78 |
| 114 | Jason Villalba (R) | Lisa Luby Ryan (R) | $403,661.65 | $398,302.00 |
| 115 | Matt Rinaldi (R) | Julie Johnson (D) | $825,809.96 | $703,395.54 |
| 116 | Diana Arevalo (D) | Trey Martinez Fischer (D) | $189,715.83 | $208,763.23 |
| 118 | Tomas Uresti (D) | Leo Pacheco (D) | $86,827.02 | $30,552.95 |
| 132 | Mike Schofield (R) | Gina Calanni (D) | $150,006.80 | $100,875.63 |
| 135 | Gary Elkins (R) | Jon Rosenthal (D) | $890,755.76 | $45,029.79 |
| 136 | Tony Dale (R) | John Bucy III (D) | $576,715.11 | $297,085.90 |
Senate Districts
| Senate Districts | Incumbents | Challengers | Incumbent Spending | Challenger Spending |
| --- | --- | --- | --- | --- |
| 10 | Konni Burton (R) | Beverly Powell (D) | $1,665,409.54 | $1,329,664.99 |
| 16 | Don Huffines (R) | Nathan Johnson (D) | $3,673,239.53 | $1,344,131.30 |
| 30 | Craig Estes (R) | Pat Fallon (R) | $1,467,425.73 | $1,906,740.03 |