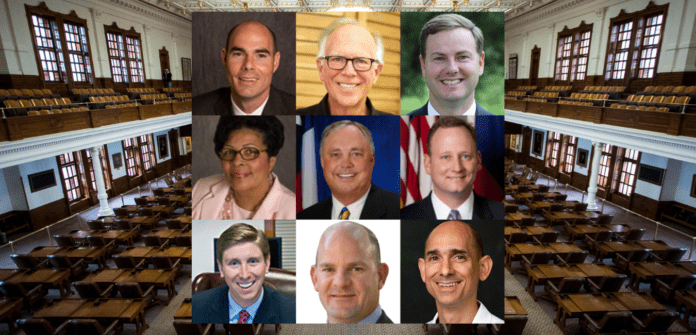 (From top left to bottom right in order of greatest contributions maintained: Dennis Bonnen, Todd Hunter, Trent Ashby, Senfronia Thompson, Drew Darby, Four Price, Tan Parker, John Kuempel, Greg Bonnen)
Under Texas law, state elected officials are required to submit periodic financial disclosures. The latest campaign finance deadline was the semi-annual report due January 15, which covers the period from their last filing – from October 28 if they were on the November 2018 ballot; if not, from July 1 through December 31, 2018.
As Reform Austin has previously reported, Texas is one of 15 states to prohibit political fundraising during the legislative session. The Texas Ethics Commission's "Moratorium on Contributions" prevents elected officials and related entities from raising money during the legislative session. The 2019 moratorium began on December 8, 2018 and ends on June 17, 2019, following the end of the 86th regular session.
The latest campaign finance filings include the final stretch of the 2018 campaign, as well as fundraising up until the day the moratorium begins.
147 State Representatives of the 150-member House filed finance reports on January 15, while three districts are currently being contested in special elections and have not yet seated members.
In the interest of transparency for Texas taxpayers, we have compiled all maintained contributions for the 147 House members who filed finance reports to start the 86th Legislative Session.
Collectively, House members have maintained $33.7 million entering the regular session, led by Speaker Bonnen who maintains $4.5 million in contributions, 83 percent of which came in the weeks following his press conference on November 12 announcing he had secured the votes to become Speaker.
With many new members and a new Speaker of the House, Reform Austin will watch who gives money to whom and how political contributions may influence legislation during the 86th session.